Beat January blues with Lottie's energising and tasty egg slices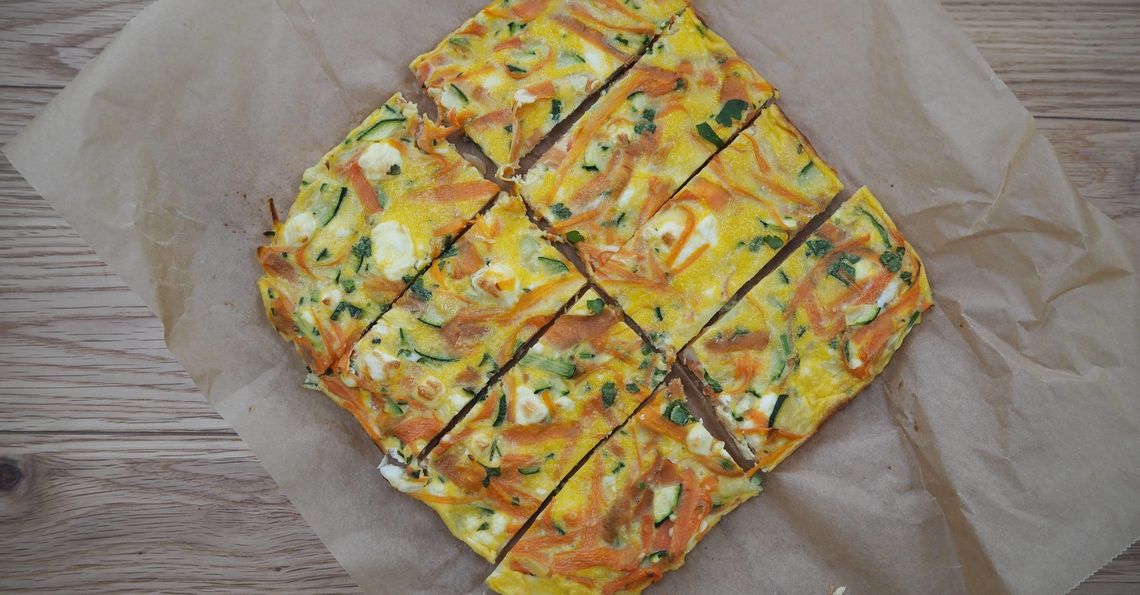 We always start the year off so motivated with our healthy diets, fitness regimes and positive mental attitude but as the days continue to feel darker and colder and work gets busier, it's easy to fall off the wagon and get beaten by the January blues half way through the month. One of the main reasons people don't stick to their January healthy diets is because they aren't eating enough. If you are upping your exercise and restricting yourself at the same time then you are going to feel blue.
Getting enough sleep, fun and nutrients are all so important for happiness this time of year. It's really important that you are fuelling your body with nourishing filling meals and snacks to keep you energised and uplifted. A lot of people struggle with healthy snack options and reach for a bag of crisps, chocolate bar or coffee or skip snacking altogether and then overeat at meal times.
Most people enjoy eggs for breakfast but they make an incredible snack too- high in protein and low calorie. They are great for keeping blood sugar levels stable. As much as boiled egg is simple and fantastic on its own, it can get a bit boring and January is the perfect time to get experimental with your snacks, that's where the fun part can come in. Remember positive mental attitude is key to success and achieving your goals.
So here's a fun egg snack that is still simple to make and you can pack it in your bag for a post workout snack or a mid morning meeting pick me up! Why not make a batch on a Sunday for the whole family to enjoy. Wrap each individual slice in cling film and keep in the fridge for a couple of days.
Energising and tasty egg slices recipe
Ingredients - makes 8 slices
Melted coconut oil or butter, to grease
2 tsps olive oil
80g finely chopped courgette
80g grated carrot
1 tsp crushed chilli
Sprinkle garlic sea salt
3 British Lion eggs, lightly whisked
40g crumbled feta
2 tablespoons finely chopped fresh parsley
1 tablespoon spelt flour

Method

1. Preheat oven to 180C. Grease and line with baking paper a square 20cm cake tin.
2. Heat the olive oil in a medium saucepan over a medium heat. Add the courgette, carrot, crushed chilli and garlic sea salt and cook, stirring for 5 minutes until vegetables soften. Remove from the heat and set aside to cool.
3. Combine the vegetable mixture, eggs, feta, parsley and flour in a large bowl and stir until well combined.
4. Spoon the mixture into the square tin and smooth the surface.
5. Bake in the oven for 12 minutes until set. Take out of the oven and let cool completely.
6. Cut into 8 slices and serve or wrap in cling film ready to be taken for snacks.