Weaning recipes
Eggs are an ideal food when introducing solids to your baby's diet - they are  easy to eat and swallow, and the latest guidelines recommend that they should be introduced early during weaning.  Eggs provide a good source of high quality protein, vitamins such as vitamin D and B12, minerals including iodine and selenium.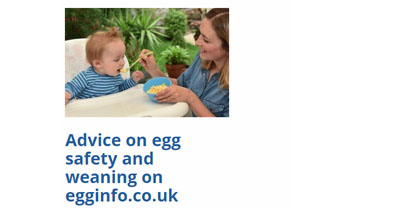 The Food Standards Agency now advise that eggs with the British Lion mark can safely be eaten runny by everyone, including babies. Health experts also stress that it's important not to delay the introduction of eggs to your baby's diet, as this may help reduce the chances of developing an egg allergy later on.
See more detailed advice for mums and babies.
First recipes
It's easy to introduce your baby to eggs, whether you're planning to feed from a spoon or follow baby-led weaning.