Cooking with children - coriander egg pancake rolls by Holly Bell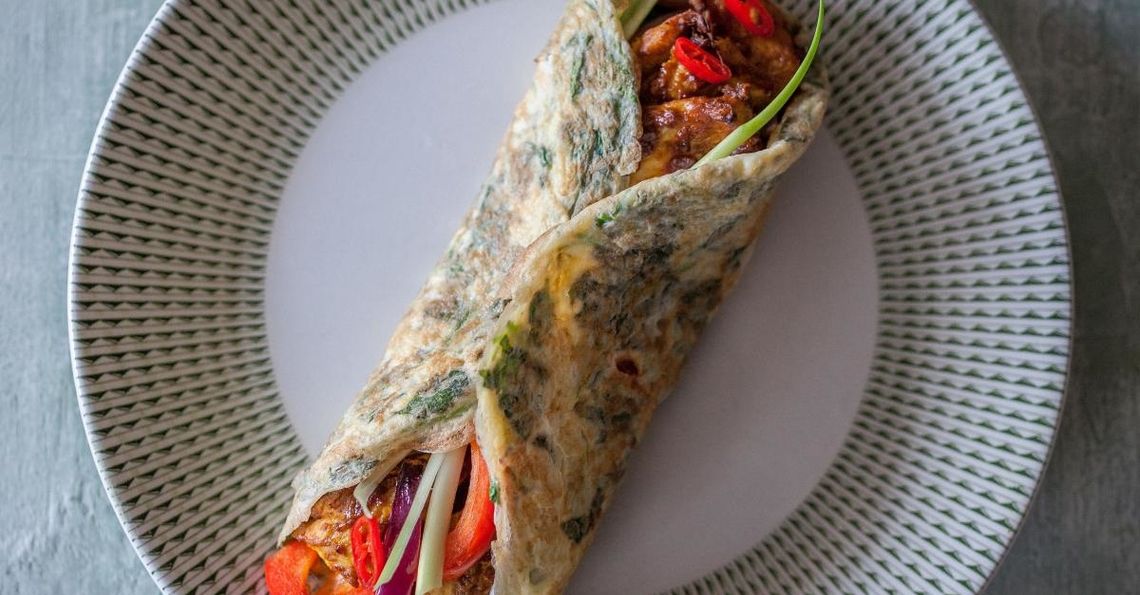 Cooking with my sons is pretty much my top activity for spending quality time together without spending a fortune. The geeky mother in me happily ticks off all the boxes it covers. Helping develop manual dexterity? Absolutely. Team working? Yes! Understanding nutrition and health? Of course. A sprinkling of science and maths? Got it covered. And instilling an enjoyment of good food and cooking? BIG tick.

It's all too easy to get into the rut of making cakes, cookies and other sweet treats with children. And obviously these have their place. I have such fond memories of helping to stamp out pastry for jam tarts as a toddler and licking the bowl clean after making a Victoria sponge. But the recipes I really like to teach my sons are the savoury ones. Those go-to meals that will stand them in good stead for years to come. It helps if they're simple and easy on the pocket too.

That's where eggs come in. There's such joy in watching a child crack their first egg where the shell doesn't end up as part of the dish. (And hey, there's joy to be had in fishing the errant shell out too). Eggs are a great source of protein, vitamins and minerals, and combined with plenty of veg they can make a healthy meal at any time of day. They can also help to keep you feeling fuller for longer, meaning less chance of snacking. And they're speedy too. And anyone who'd ever cooked with a toddler will know their attention span can be on the short side. And in years to come, when my boys leave home, recipes where eggs feature will help balance their budget, given they're so economical, whilst keeping them healthy.
We love pancakes in our family, but with these ones the emphasis is less on sugar and lemon, and instead uses eggs to create the perfect thin omelette style roll to fill with whatever your children desire. Here I've gone for a satay chicken and veggie baked filling, but choose what yours love best.
Coriander egg pancake rolls
Serves 4
Ingredients:
For the marinade:
1 tbsp freshly grated ginger
2 garlic cloves, peeled and crushed
1 tbsp honey
Zest and juice of 1 lime
1 tbsp dark soy sauce
3 tbsp smooth peanut butter
1 tsp garam masala
1 tsp turmeric
1 tsp ground cumin
2 chicken breasts, cut into thin strips
For the vegetables:
1 red pepper, deseeded and thinly sliced
1 red onion, peeled and finely sliced
4 spring onions, topped and tailed and finely sliced lengthways
1 tbsp olive oil
For the pancake rolls:
1 tbsp sunflower oil
6 large eggs, beaten
5 tbsp fresh coriander, finely chopped
To serve:
Freshly chopped red chilli (optional)
Method:
Make the marinade by combining all the ingredients in a bowl and stirring well. Cover in clingfilm and chill for 30 minutes. In the meantime chop the vegetables, place the peppers and onions into a roasting tray with the oil and set aside. (The spring onions are to be kept separate and used as a garnish later).
Preheat the oven to 180C/fan 160C/gas mark 4 and bake the chicken satay (including marinade) in a foil lined baking tray for 20 minutes. Bake the peppers and onions at the same time, in their own tray.
Make the egg pancake rolls by heating a little of the oil in a small frying pan over a low heat. Stir together the eggs and coriander, remove the frying pan from the heat, then pour in a little of the egg mixture to make a very thin, even layer. Place back on the heat and fry for 30 seconds. Once the edges start to turn a golden brown colour, flip or use a slice to turn the egg pancake over. Fry for a further 15 seconds, then slide out of the pan onto a plate covered with non-stick baking parchment. Repeat until you have used all the batter (you should be able to make 4 – 5), being sure to place baking paper between each pancake to stop them sticking.
Serve the pancakes with the satay chicken and roasted vegetables rolled inside. Garnish with the spring onion. You could also add freshly chopped chilli if you wish.