Make Mother's Day with an egg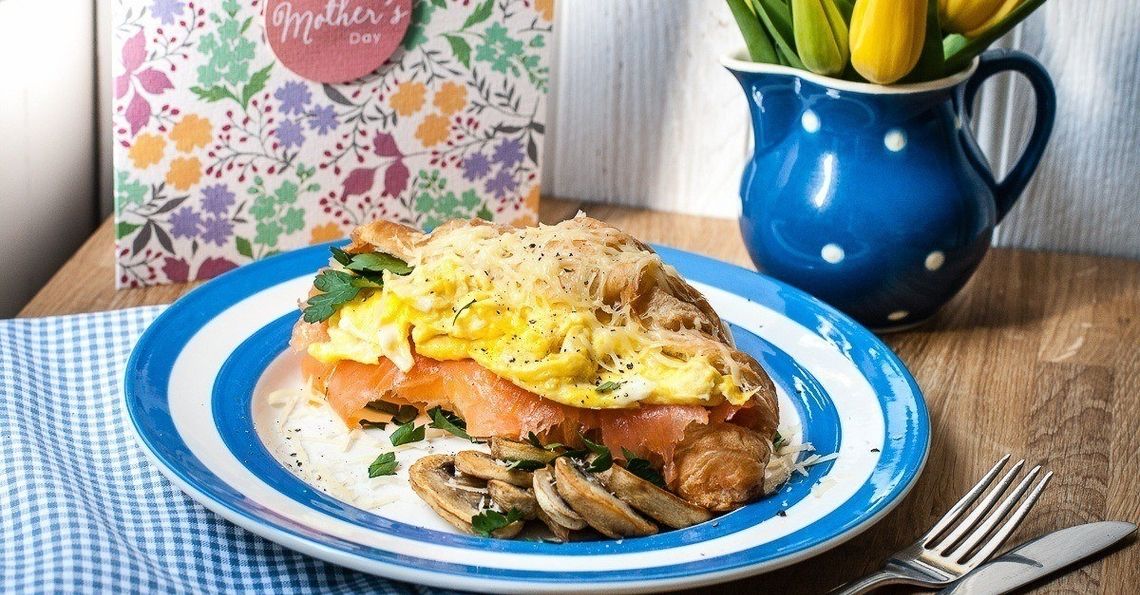 Whether you're a kitchen numpty or a confident cook, there's an eggy recipe idea here to pamper your mum on Mother's Day morning.
Sarah Trivuncic of Maison Cupcake has asked her friends to suggest their favourite egg recipes with which to make Mother's Day breakfast extra special.
The point of making a Mother's Day breakfast is that she doesn't need to do any of the work. These are all fairly easy breakfasts or brunches you can knock up in around twenty minutes or less. If you're not usually the cook do read the recipes carefully and make sure you have ingredients and any equipment to hand.  It will spoil the surprise if mum has to get out of bed to help!
Heart Shaped Egg in a Hole
If cooking isn't usually your thing but you want to show mum you care, this idea is very quick and easy. Bake an egg inside a hole cut into a slice of toast. Add an extra loving touch by making the hole a heart shape with a cookie cutter.
(Image credit: Claire Jessiman, Foodie Quine)
https://www.foodiequine.co.uk/2015/03/quick-easy-mothers-day-breakfast-brunch.html
Mini baked yogurt and spinach frittatas

Beat up your eggs and mix with yogurt and spinach before baking in a muffin pan to create these mini baked frittatas. These snack sized bites take just twenty minutes to cook and can be eaten either hot or cold – so you could prepare this one ahead the night before.
(Image credit: Bintu Hardy, Recipes from a Pantry)
https://recipesfromapantry.com/mini-baked-yoghurt-and-spinach-frittatas/
Asparagus and Cheese Soufflé style Omelette
For mums you want to pamper but who might complain about the calories this soufflé omelette is just the job. The classic omelette is made extra fluffy here by including whipped up egg whites to the mix. The extra air means a bigger omelette with fewer eggs and tasty enough without adding cream so it's a wise choice for the waistline.
(Image credit: Nazima Pathan, Franglais Kitchen)
https://web.archive.org/web/20180625194454/http://franglaiskitchen.com:80/asparagus-and-cheese-omelette/
Mexican Breakfast Burritos
Spice up mum's morning with this Mexican inspired tortilla wrapped scrambled eggs with spring onions and a dash of hot chilli sauce.
(Image credit: Ren Behan, Renbehan.com )
renbehan.com/2014/05/cinco-de-mayo-breakfast-burittos-kick.html
Orange Spiced French Toast with Berries
Eggy bread always sounds more glamorous when you call it "French toast" . This version is perked up with some aromatic cinnamon and allspice alongside fresh berries making a beautifully balanced breakfast that's lovely to look at too.
(Image credit: Helen Best-Shaw, Fuss Free Flavours)
https://fussfreeflavours.com/recipe-orange-spiced-french-toast-perfect-christmas-brunch/
Scrambled Egg Croissants with Smoked Salmon
Smoked salmon with breakfast is perfect for special occasions. Simply whip up some creamy scrambled eggs and stuff into a croissant with the smoked fish for a memorable Mother's Day treat.
(Image credit: Sarah Trivuncic, Maison Cupcake)
Green Shakshuka
And finally, something with lots of vegetables that's big enough for an entire family brunch. This green alternative to traditional tomato shakshuka Middle Eastern baked eggs dish serves glossy yolked eggs with herbs, courgettes and mixed leaves such as kale, chard and beet greens.
(Image credit: Kellie Anderson, Food to Glow)
https://kelliesfoodtoglow.com/2014/07/14/gardeners-green-shakshuka/

If you need more inspiration for your Mother's Day breakfast try these articles:
Breakfast Recipes
https://www.eggrecipes.co.uk/recipe-category/breakfast-recipes
Omelettes, tortillas and frittatas
https://www.eggrecipes.co.uk/ways-to-cook/omelettes-tortillas-and-frittatas
All about scrambled eggs
https://www.eggrecipes.co.uk/ways-to-cook/scrambled