Put An Egg On These Tasty Mid Week Meals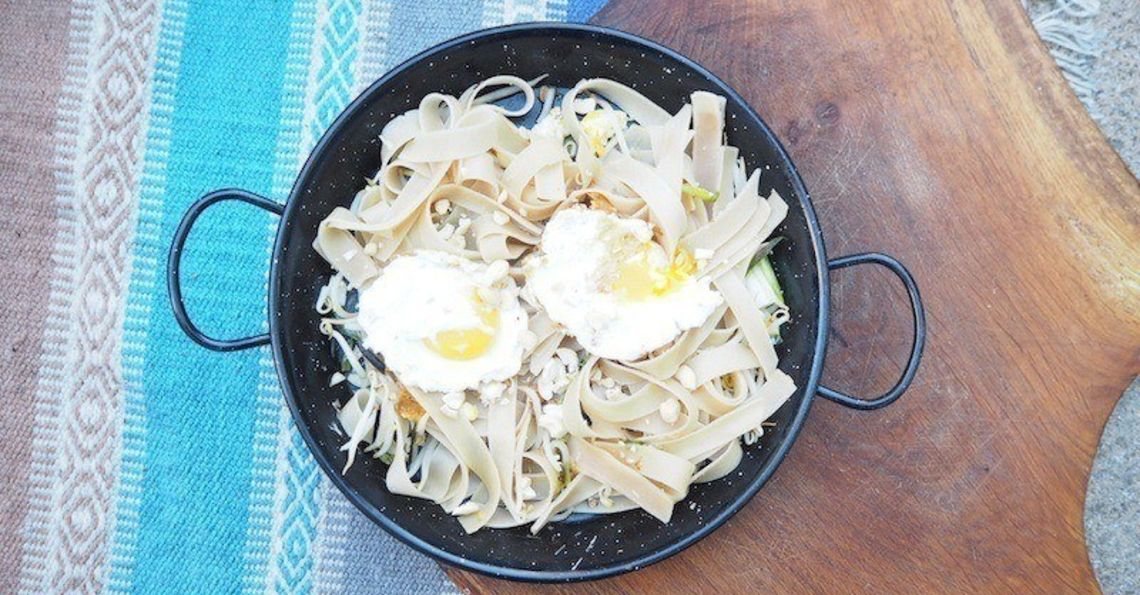 It's British Egg Week and I am celebrating by putting eggs on some of my favourite recipes. In the week I love my meals to be quick and easy but also healthy and delicious. You can even make these dishes before and heat them through and add the egg when you're ready to eat.
All of these dishes are vegetarian but by putting an egg on top, it really upgrades the meal in flavour, nutrients and adds that extra protein hit vital for every cell in the body. They are really filling and make a perfect post workout mid week meal. Pack the next day for lunch too and take a boiled egg to top when you eat.
Healthy Pad Thai With Egg On Top
Ingredients – serves 3-4
200g brown rice noodles
2 tsp tamaring paste
3 tbsp fish sauce
2 tsp pure maple syrup
1 garlic clove
Bunch of spring onion
Tbsp coconut oil
3 eggs
75g beansprouts
Handful chopped cashews to serve
Method
Soften the brown rice noodles by placing them in a bowl of boiled water for 10 minutes then drain well.
Mix together the tamarind paste, fish sauce and maple syrup in a small bowl.
Peel and finely chop the garlic. Trim the ends off the spring onions and slice.
Heat the coconut oil in a wok or large saucepan and tip in the garlic and spring onion, toss around until soft.
Push the garlic and spring onion to the sides of the wok and crack an egg in the middle. When it starts to cook, break it up into small bits and mix in with the vegetables.
Add the beansprouts and noodles to the wok then pour over the tamarind sauce. Toss everything together.
Fry two more eggs and place on top of the noodles with the cashews.
Pearl Barley and Pea Risotto With Egg On Top
Ingredients – serves 4-6
1 cup of pearl barley
1½ cup of water
½ cup frozen peas
3 tbsp nutritional yeast
2 tsp mixed herbs
Sea salt and black pepper
4-6 eggs
Tamari soy sauce
Method
Rinse the pearl barley then place in saucepan and cover with the water. Bring to the boil then simmer for 1 hour and 15 minutes, keep topping up with water if you need to.
5 minutes before pearl barley is done add the frozen peas and cook through.
Take off the heat and stir in the nutritional yeast, mixed herbs, sea salt and black pepper.
Leave to stand for 10 minutes and in the meantime poach an egg for each serving.
Serve the risotto in bowls with the poached egg on top and some tamari soy sauce.
Rice and Beans With Egg On Top
Ingredients - serves 3-4
1 cup of brown rice (I used sprouted GABA Jasmine rice)
1.5 cup water
1 can of tinned red kidney beans (drained)
1 tsp coconut oil
1 red onion (chopped)
1 tsp cumin
2 handfuls spinach
Juice of 1 lime
3 boiled eggs
Sea salt
Black pepper
Tamari
Method
Cook the rice according to pack instructors and 5 minutes from the end add the red kidney beans.
Meanwhile, once you've added the kidney beans for last 5 minutes, heat the coconut oil in a large frying pan and add the onion, heat to soften for 5 minutes.
Put another saucepan of water on and bring to the boil before boiling your eggs for about 5 minutes.
Add the cumin and spinach to the onion and then the rice and beans mix. Heat through and squeeze the lime juice over stirring everything together.
Remove the shell from the boiled eggs and split in half, hopefully they are a little soft inside and put them on top of the rice.
Sprinkle with some sea salt and black pepper and add a dash of tamari and a lot of love.