Rosti baked egg nests by Holly Bell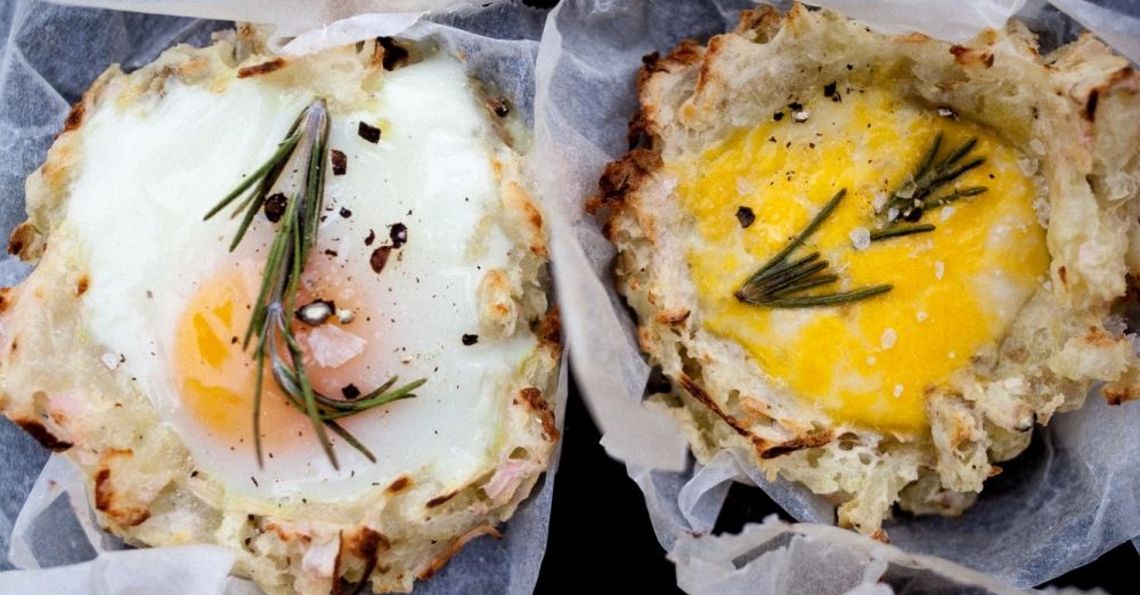 Breakfasts are often rushed, such is modern life. Grabbed sustinence, hurriedly snaffled.  Any solution to breakfast that manages to tear us away from the usual toast and cereal is a good thing in my book. These rosti baked egg nests are certainly not for concocting on a Monday morning (well not in my house at least), but they're delicious cold and perfectly portable, so for me these are a Sunday night endeavour to stash in the fridge. Delicous warm or cold, packed with protein, vitamins and minerals, they're also great for using up leftover potatoes and scraps of cooked meat you might have in the fridge.
Rosti baked egg nests
Makes 8
Ingredients
600g cooled cooked potato, grated
2 medium onions, peeled and grated
1 tsp salt
2 tsp freshly ground black pepper
50g butter
5 – 8 British Lion eggs, depending on the size
8 small sprigs of fresh rosemary
Preheat the oven to 180C/fan 160C/gas mark 4. Cut 8 squares of non stick baking paper 10 x 10cm and scrunch into balls. Open them out and use to line 8 holes in a 12 hole cupcake tin.
Stir together the grated potato, onion, salt and pepper in a large bowl. Divide the rosti mixture between the squares of baking paper. Use a spoon to squash it down and create a well in the middle. Place a teaspoon of butter into each hole and bake for 12 minutes until the edges are starting to brown. Remove from the oven and (depending on the size of your eggs – smaller ones work better when adding whole to the rosti nests) either crack a whole egg into each well, or lightly beat the eggs and pour into the wells. Place a sprig of rosemary on the top, then return to the oven and bake for a further 12 minutes. Serve warm or cold for breakfast, lunch, dinner or as a little snack.