Sprout and cranberry quiche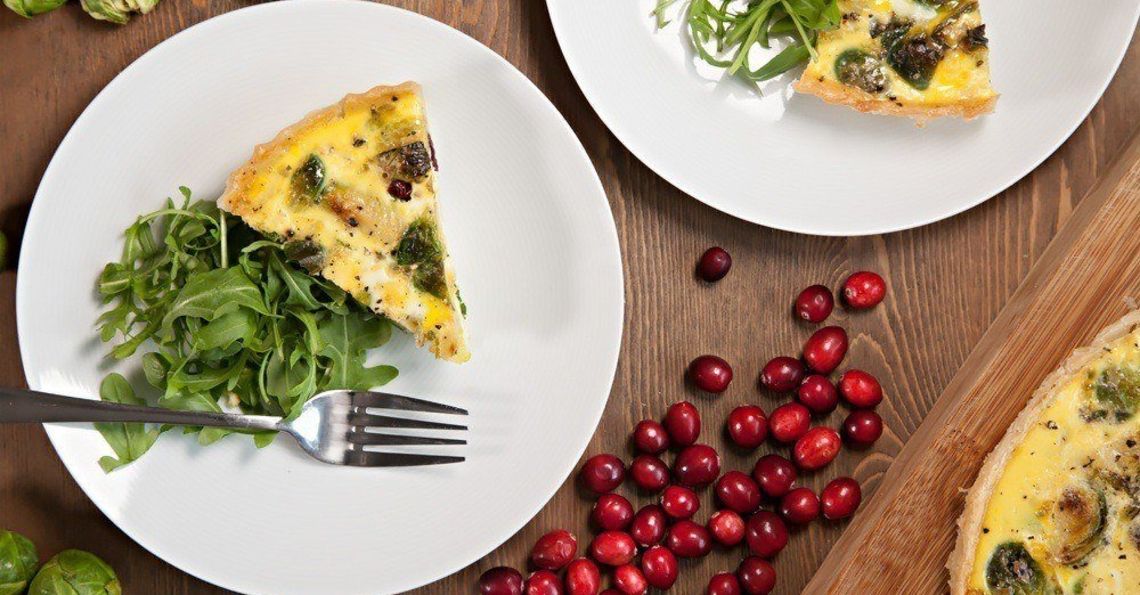 Quiche is on one of my favourite types of French cuisine, not just because it looks amazing and tastes great, but because also because it's so versatile.
Whether you're trying to use up the last of something from the fridge, or experimenting with a new combination of flavours for the first time, a quiche can be your best friend.
This version of the much-loved quiche has a festive twist, achieved with the use of buttery sprouts, Wensleydale cheese and a few dried cranberries to cut through the creaminess with little bursts of sweetness.

The whole recipe can be prepared and ready for the oven in under 15 minutes if you use a roll of ready made pastry, and its makes a great snack or appetiser, hot or cold.
If you're having it for lunch, I'd pair it with a simple salad of rocket and tomatoes. Enjoy!

Ingredients:
1 roll pastry
1 tbsp butter
50g (1.7 oz) dried cranberries
225g (9 oz) Brussels sprouts
100g (3.5 oz) Wensleydale cheese
6 medium British Lion eggs
200ml milk
salt and pepper
23cm (9 inch) quiche pan

Instructions:
Preheat the oven to 180C/355F (160C/320F) and place a baking sheet on the centre shelf. When it comes time to put your dish in the oven placing it on a hot baking sheet will ensure you end up with a lovely crispy base.
Take 1 roll of pastry and lay it over your pan. Gently press down on the pastry until it touches all of the base and sides of the pan, taking care not to make any holes. Leave the overhang in place for now.
Grab your Brussels sprouts, wash and trim them.
Roughly chop them into quarters
Add 1tbsp of butter to a frying pan, add the sprouts and cook on a medium heat until starting to brown (8-10 minutes), then set aside to cool completely.
Sprinkle the cranberries evenly into the base of the pastry case.
Add the pan-fried sprouts in an even layer.
Crumble over the Wensleydale cheese.
Beat the eggs and milk well and add a pinch of salt and pepper. Pour the mix into the pan, stop a half inch from the top as this will make it easier to carry to the oven. Once the quiche is on the tray, add the last bit of egg mix until the case looks almost full.
Bake for around 45 minutes until golden brown.
Cut the edges of the pastry away with a sharp knife and then place the tin on a can to let the sides drop away. Serve to a plate and enjoy!