Annabel Karmel's baby brunch pizza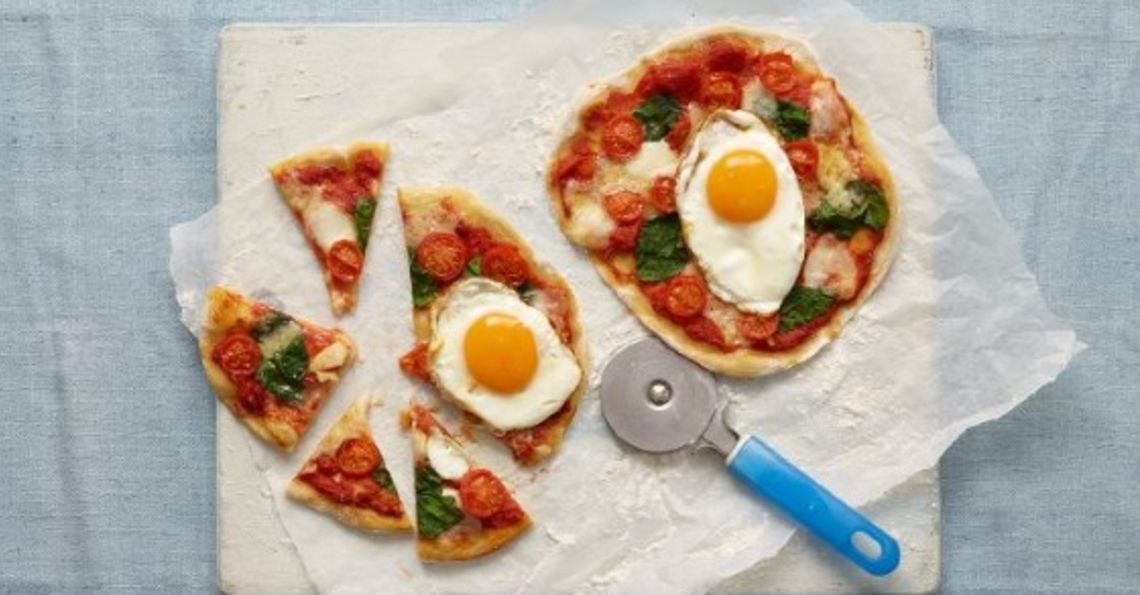 Serves: 2
Prep: 10 mins
Cook: 20 mins
A nutritious egg-topped pizza for toddlers, ideal for breakfast or lunch. The egg provides high quality protein, vitamins and minerals and there are extra nutrients from the other toppings, including vitamin C from the tomatoes and spinach and calcium from the cheese. Suitable from around 12 months.
Ingredients
Pizza Dough:
100g strong white bread flour
1 teaspoon fast action dried yeast
1 teaspoon olive oil
70mls warm water
(or use ready-made pizza dough/bases)
Topping:
3 tablespoons chopped tomatoes
1 teaspoon tomato puree
¼ clove garlic, crushed
25g leaf spinach
3 cherry tomatoes, sliced
20g mozzarella, sliced
15g mature cheddar, grated
2 teaspoons sunflower oil
1 medium British Lion egg
Method
1.    Pre heat the oven to 220°C / 200°C Fan / 425°F / Gas 7
2.    Make the dough. Measure the flour, yeast, oil and water into a mixing bowl. Stir together until a dough is foamed
3.    Put onto a floured surface and knead for 5 minutes until the dough is smooth and shiny
4.    Place in an oiled bowl and cover with cling film. Leave for 45- hour until doubled in size
5.    Mix the tomatoes, puree and garlic together in a small bowl
6.    Put the spinach in a small pan with 1 tablespoon of water, stir over the heat until wilted. Drain and leave to cool
7.    Once the dough has risen, tip onto a surface and roll out to a circle about 20cm wide. Place on a baking sheet lined with non-stick paper
8.    Spread the tomato mixture over the surface and then top with the spinach. tomatoes and cheeses.
9.    Bake in the oven for 15-18 minutes until well risen and golden brown on top
10.    Meanwhile, Heat the oil in a small frying pan. Crack the egg into the pan. Fry for about 5 minutes over a medium heat, basting with the oil until the white is cooked and the yolk is soft but not too runny
11.    Place the fried egg on top of the pizza and slice into fingers
 
Cooks tips
Tip: If time is short you can use one readymade pizza base about 20cm wide and continue with the method from step 8
 
The Food Standards Agency (FSA) has changed its advice on eggs, confirming they are now safe to be eaten runny, and even raw, by vulnerable groups including infants, children and pregnant women as long as they are British Lion. 
Click on the stars to rate this recipe: