Annabel Karmel's baby shakshuka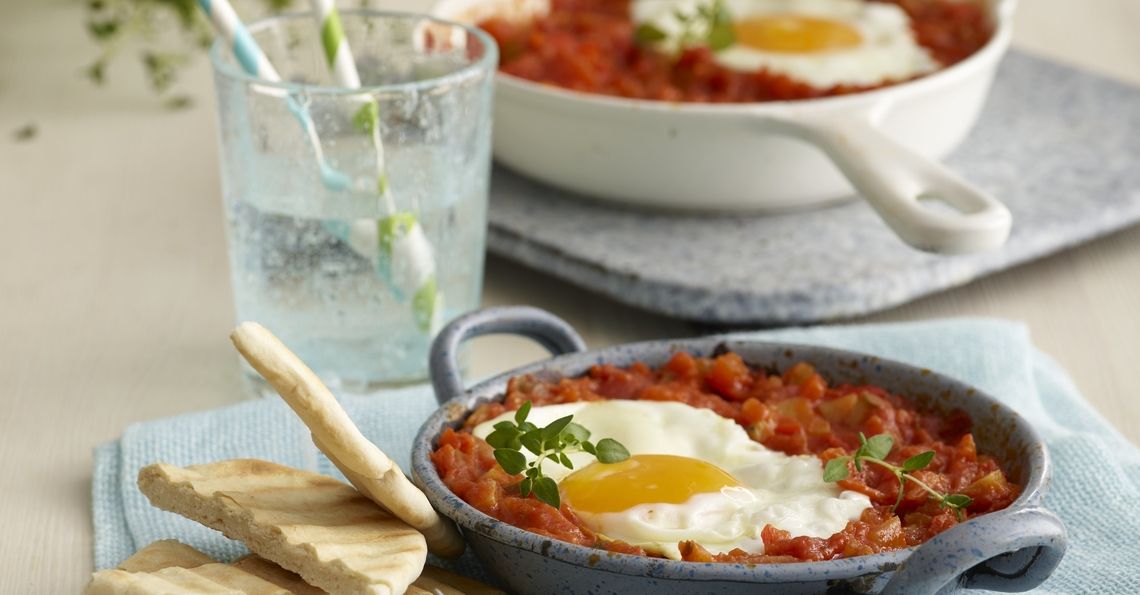 Serves: 2
Prep: 5 mins
Cook: 35 mins
A delicious and nutritious meal and a great way to introduce toddlers to new flavours. The egg provides high quality protein, vitamins and minerals and there are other important nutrients from the vegetables including vitamin C and fibre. Suitable from around 12 months.
Ingredients
50g courgette, finely diced
1 clove garlic, crushed
50g potato, peeled and finely diced
¼ teaspoon ground cumin
¼ teaspoon ground coriander
pinch cinnamon
400g chopped tomatoes
1 teaspoon tomato puree
1 teaspoon thyme, chopped
2 medium British Lion eggs
1 white pitta for dipping
Method
1.    Heat the oil in a small frying pan about 20cm wide.
2.    Add the onion, pepper, courgette and potato and fry for 2 minutes.
3.    Add the garlic and spices and cook for 30 seconds.
4.    Add the tomatoes, thyme and puree. Bring up to the boil, then reduce the heat and simmer gently for 25 minutes until the vegetables are soft and the sauce has reduced.
5.    Make two holes in the mixture.
6.    Crack the eggs into the holes and continue to simmer for 8-10 minutes until the egg whites have set but the yolks are still runny.
7.    Toast the pitta and cut into lengths for dipping.
 
The Food Standards Agency (FSA) has changed its advice on eggs, confirming they are now safe to be eaten runny, and even raw, by vulnerable groups including infants, children and pregnant women as long as they are British Lion. 
 
Click on the stars to rate this recipe: