Annabel Karmel's bagel snake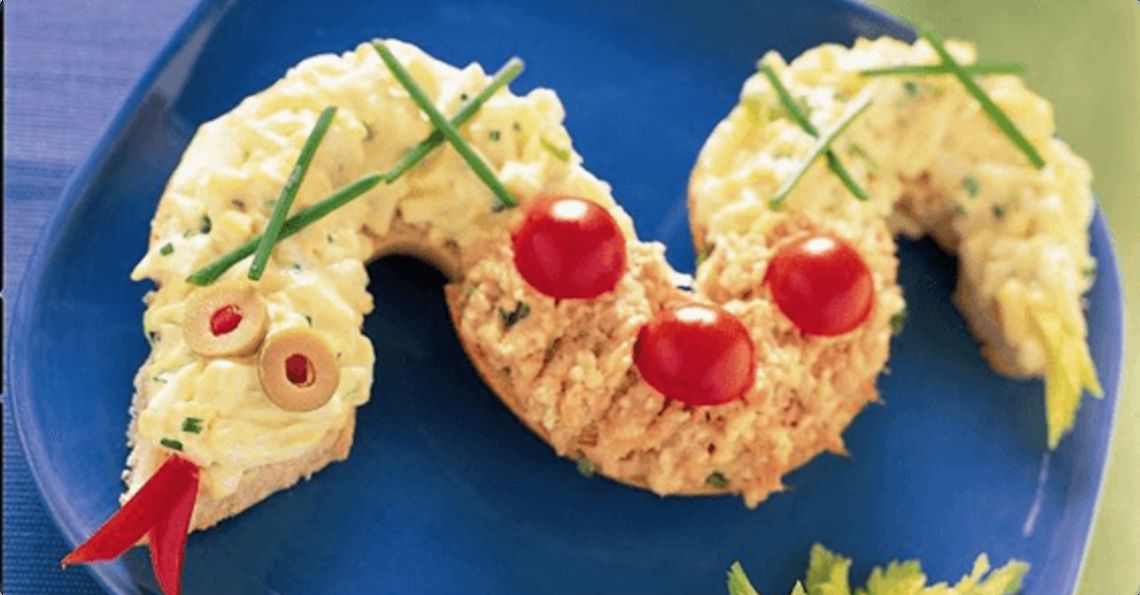 Serves: 4
Prep: 25 mins
Cook: 10 mins
This is a fun way of serving bagels and you can make the snake as long as you like depending on how many bagels you use. A great recipe for young cooks.
Ingredients
For the tuna salad topping:
1 x 200g can of tuna in oil (drained)
2 tbsp ketchup
2 tbsp crème fraiche or Greek yoghurt
2 spring onions, finely sliced
For the egg salad topping:
2 to 3 large hard boiled British Lion eggs (8 minutes)
3 tbsp mayonnaise
1 tbsp snipped fresh chives
3 tbsp salad cress
salt and freshly ground black pepper
For the decoration:
cherry tomatoes, halved
chives
1 stuffed olive, sliced
strip of sweet pepper
Method
Slice the bagels in half and then cut each half down the centre to form a semi circle.  Cut out the head of the snake from one of the pieces of bagel and the tail from another. Mix the ingredients for the tuna salad topping and mix the ingredients for the egg salad topping. Spread half the bagels with tuna and half with egg.
Decorate the tuna topping with halved cherry tomatoes and the egg topping with strips of chives arranged in a criss cross pattern. Arrange the bagels to form the body of a snake. Then attach the head to the snake's body and arrange two slices of stuffed olive to form the eyes and cut out a forked tongue from the strip of sweet pepper.
Click on the stars to rate this recipe: