Annabel Karmel's baked bean and poached egg pittas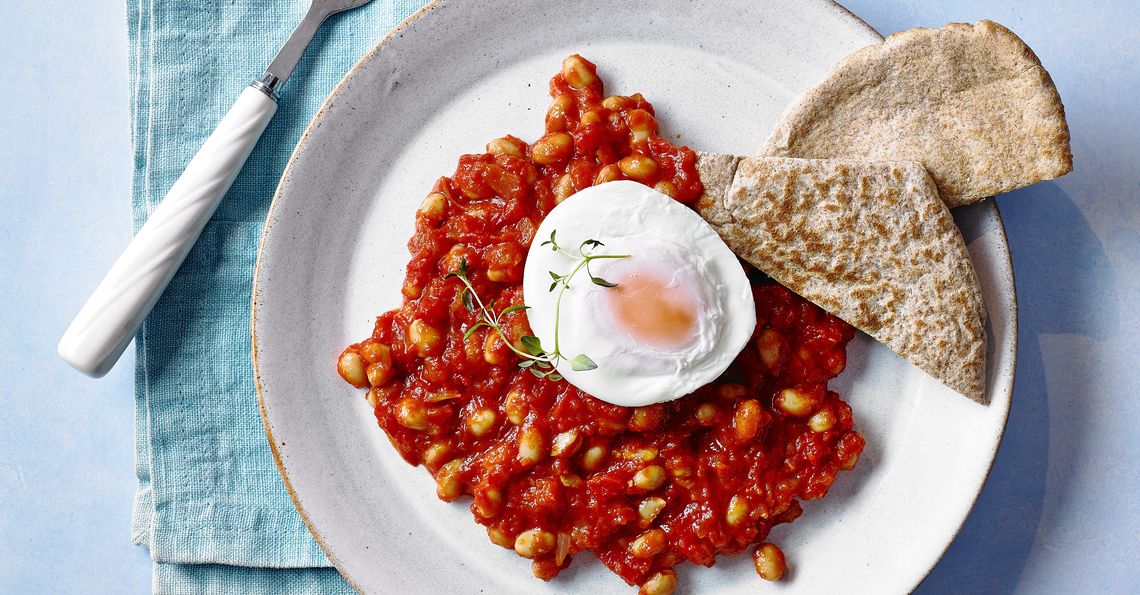 Serves: 2
Prep: 10 mins
Cook: 20 mins
Kids love beans, so here's a tasty twist on traditional beans on toast to fuel their day…and yours too! This also makes for a protein-packed teatime tummy filler after a busy day of play.
Ingredients
1 tbsp olive oil
1 onion, finely chopped
1 clove garlic, crushed
½ red pepper, deseeded and diced
1 tsp paprika
300 ml passata
½ tsp Worcester sauce
½ tsp soy sauce
½ tsp balsamic vinegar
1 tsp brown sugar
1 x 400g tin haricot beans, drained and rinsed
2 small wholemeal pittas
Knob butter for spreading
2 medium British Lion eggs
1 tsp white wine vinegar
Method
Heat the oil in a saucepan. Add the onion, garlic, paprika and red pepper. Fry for 5 minutes.
Add the passata, Worcester sauce, soy sauce, vinegar and brown sugar. Simmer for 5 minutes.
Using a stick blender, blend until smooth. Add the beans to the sauce and simmer for 5 minutes.
Bring a pan of water to the boil and add the vinegar. Lower the heat to a gentle simmer.
Crack an egg into a bowl. Stir the water to create a gentle whirlpool and slowly tip the egg into the centre. Repeat for the second egg.
Poach each egg for 3 to 4 minutes, then lift each egg out with a slotted spoon and drain on kitchen paper.
Toast the pitta bread, slice to open up and spread with butter.
For each portion, arrange 2 pitta slices on a plate, spoon over the beans and top with a poached egg to serve.
Click on the stars to rate this recipe: