Bee cakes by Annabel Karmel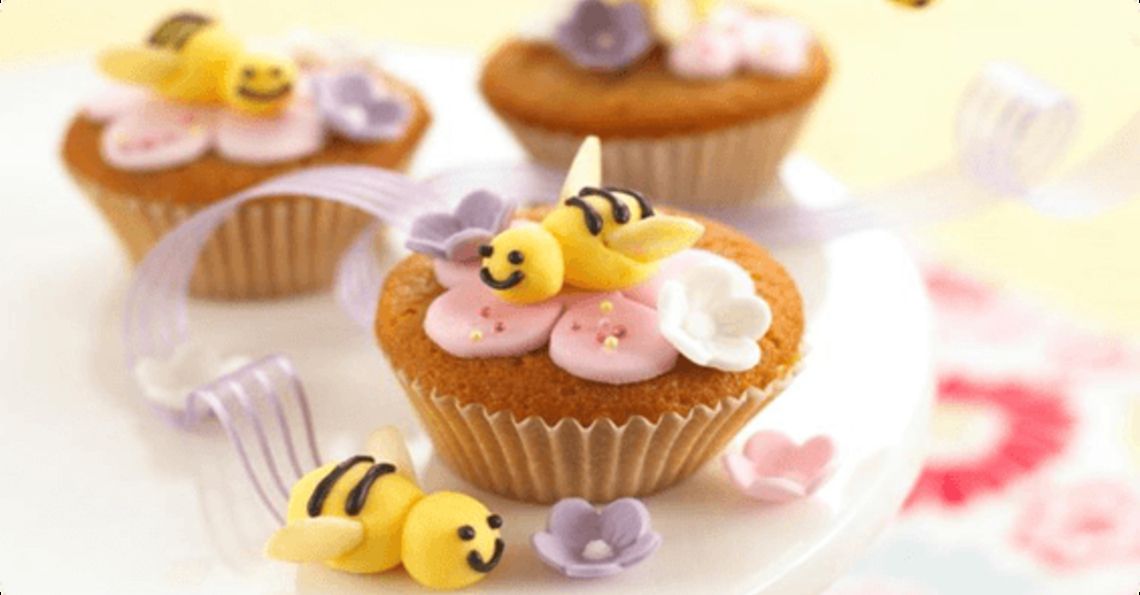 Serves: 6
Prep: 20 mins
Cook: 18 mins
These honey cupcakes are absolutely delicious and if you are feeling creative you can make edible bees to decorate them.  Desgined by Annabel Karmel to launch the Eggs Factor competition, these delicious cakes will certainly make you popular
Ingredients
For the cakes:
55g/2oz butter, room temperature
55g/2oz soft light brown sugar
85g/3oz clear honey
1 large British Lion egg
1/2 tsp vanilla extract
2 tbsp apple puree
85g/3oz self raising flour
1/2 tsp ground cinnamon
1/2 tsp ginger
1/4 tsp salt
For the decoration:
150g yellow marzipan
Tube of black writing Icing
12 flaked almonds
125g fondant icing
Pink and lilac food colouring
sprinkles
Method
Preheat the oven to 180c/350F/Gas 4/Fan 160. Line a muffin tin with 6 paper liners.
Beat together the butter, sugar and honey until light and fluffy. Beat together the egg, vanilla and apple puree then beat this into the butter mixture (it may look a little curdled). Sift over the flour, cinnamon and salt and fold in.
Divide the batter between the paper cases and bake for 20 -22 minutes, until risen, golden and firm to the touch. Remove from the oven and leave to cool for 10 minutes, then transfer the cakes to a wire rack and leave to cool completely.
You can decorate the cakes with bees and flowers. To make the bees, shape the heads and bodies from the marzipan and gently squash together so that they stick. Draw on the bees face and stripes using black writing Icing and push flaked almonds into the sides for wings. Colour some of the fondant icing pink and some lilac. Cut out flower shapes using mini cookie cutters and press some sprinkles into the flowers. Arrange a large flower on top each of the cupcakes and place the bees on top.
Click on the stars to rate this recipe: