Annabel Karmel's boiled egg with soldiers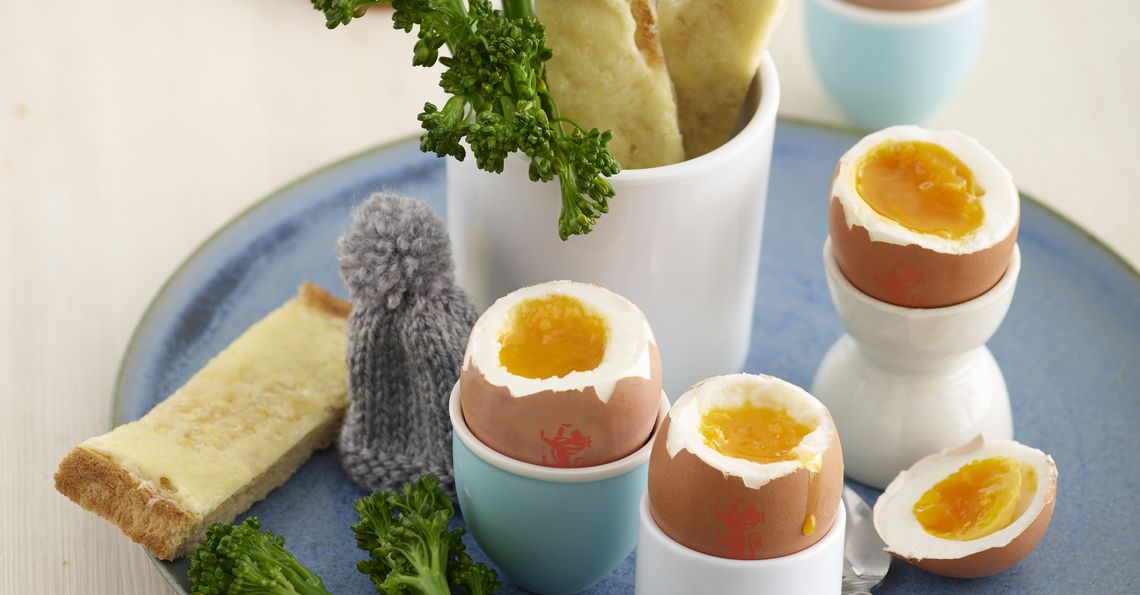 Serves: 1
Prep: 2 mins
Cook: 4 mins
Dippy egg combined with cheesy toast soldiers and broccoli provides a nutritious and complete meal and is ideal finger food, with high quality protein, vitamins and minerals from the egg, calcium from the cheese, carbohydrate from the bread and vitamin C from the broccoli. Suitable from six months.
Ingredients
1 slice of white bread
1-2 teaspoons cream cheese
15g gruyere cheese, grated
3 small stems of Tenderstem broccoli
1 medium British Lion egg
Method
1.    Pre heat the grill to high.
2.    Toast the bread in a toaster then place on a baking sheet. Spread over the cream cheese and sprinkle with cheese. Place until the grill for 3-5 minutes until the cheese has melted. Slice into fingers.
3.    Steam cook the broccoli for 4 minutes, refresh under cold water. Drain on kitchen paper.
4.    Put the egg into a small saucepan. Cover with cold water and a lid. Bring up to the boil. Boil rapidly for 3-4 minutes. Put into an eggcup and carefully slice the top off.
5.    The egg should be runny and ready for dipping!
6.    Serve with the toasted fingers and broccoli stems.
 
The Food Standards Agency (FSA) has changed its advice on eggs, confirming they are now safe to be eaten runny, and even raw, by vulnerable groups including infants, children and pregnant women as long as they are British Lion.
Click on the stars to rate this recipe: