Annabel Karmel's country style scramble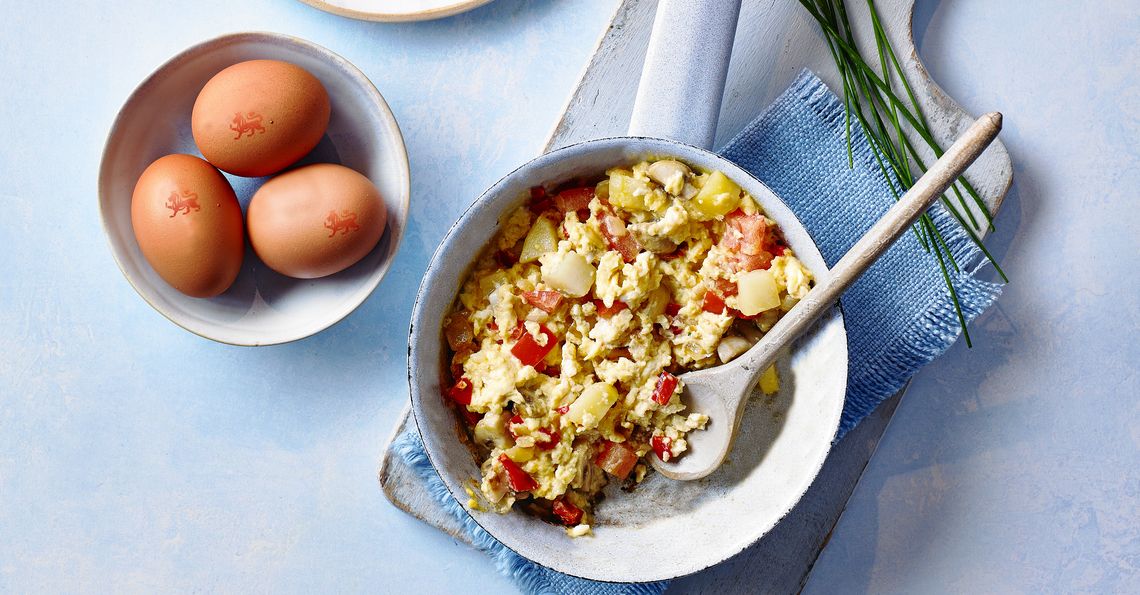 Serves: 4
Prep: 10 mins
Cook: 20 mins
Here is a one-pan veggie-packed dish the whole family will love! Fully cooked eggs can sometimes end up a little rubbery making them harder to swallow for baby, so try serving this recipe with the eggs slightly runny.
Ingredients
2 tbsp sunflower oil
1 onion, chopped
½ red pepper, de-seeded and diced
1 medium potato, peeled and diced
1 clove garlic, crushed
100g button mushrooms, quartered
1 tomato, de-seeded and diced
5 large British Lion eggs
75ml double cream
25g Parmesan cheese, grated
2 tbsp chives, chopped
Method
Heat the oil in a large deep frying pan.
Add the onion, pepper and potato and fry over a high heat for 1 to 2 minutes.
Add the garlic and fry for a further 15-20 seconds.
Cover with a lid and gently cook over a medium heat for 12 minutes until the potato is just cooked. Add the button mushrooms and fry for 2 minutes.
Beat the eggs with the cream and Parmesan. Add to the pan along with the diced tomato.
Stir over the heat for 2 to 3 minutes or until the eggs have scrambled.
Sprinkle with the chopped chives and then serve.
Click on the stars to rate this recipe: