Annabel Karmel's dippy eggs with sweet potato soldiers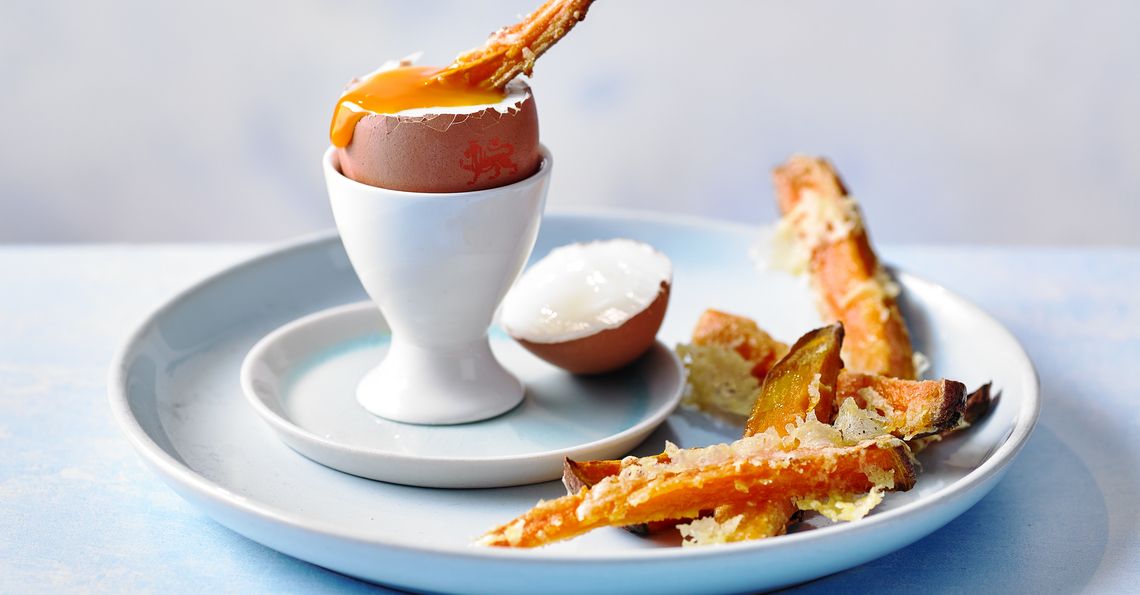 Serves: 2
Prep: 5 mins
Cook: 25 mins
While there'll always be a place in our hearts and breakfast tables for toast soldiers, here is a simple twist which babies and children will love plunging into a soft egg yolk.
Ingredients
1 large sweet potato, scrubbed and cut into thick batons
2 tbsp oil
1 tbsp cornflour
2 tbsp finely grated Parmesan cheese
2 large British Lion eggs at room temperature
Method
Preheat the oven 180˚C Fan / 400˚ F / Gas 6.
Place the sweet potato batons on a baking tray. Add the oil and cornflour and toss together. Roast for 20 minutes, turning them over after 15 minutes.
Add the Parmesan and put them back in the oven for 3 to 4 minutes until the cheese has melted. Then set them aside.
Bring a pan of water up to the boil. Add the eggs and boil rapidly for 3-4 minutes so that they are cooked but runny.
Remove, place in egg cups and carefully slice the tops off. Serve with your cheesy veg soldiers for some serious dipping.
Click on the stars to rate this recipe: