Annabel Karmel's fish pie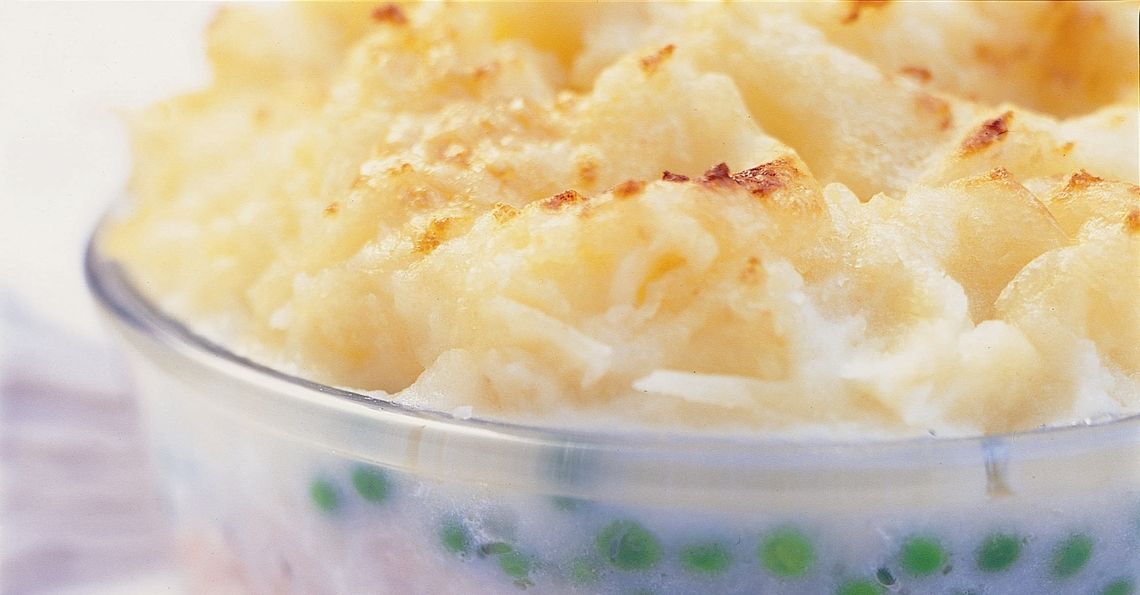 Serves: 4
Prep: 20 mins
Cook: 45 mins
This is a really tasty recipe for an old-fashioned favourite – ideal for children and easily modified for babies. As well as being delicious, its soft texture means it's an easy way to get your baby used to eating and enjoying fish. It's nutritious too, full of all sorts of nutrients, including high quality protein from the fish and eggs, calcium from the milk and cheese and some vitamin C from the potatoes and peas.
If making for young babies, poach a small portion of the fish in some milk so that it is well cooked and mix with some of the sauce before the cream is added. Take some of the cooked potato and mash separately with some milk. You could add a very little cheese, but don't add too much as you should avoid giving young babies too much salt. Cook a small amount of frozen peas briefly and add to the fish and sauce mix with a little of the mashed potatoes and some of the chopped egg. Depending on the stage of weaning and age of your baby either mash together or whiz in a blender to the desired consistency.
If your baby is still in the early weaning stage and only eating little mouthfuls you can freeze the rest of this baby fish pie in an ice cube tray or small container, so that you have a nutritious dish readily available for your baby when you are in a hurry.
You could make one large fish pie for the family and mini individual fish pies for children. It looks good prepared in a round pyrex ovenproof dish so that you can see the layers. Making food look attractive is important, and so it seems much more appealing to make individual fish pies for children rather than have a dollop of food on the plate.
Ingredients
For the potato topping:
800g (1 3/4 lb) potatoes
30g (1 oz) butter
7 tbsp milk
4 tbsp freshly grated parmesan
1 large British Lion egg, lightly beaten
salt and freshly ground black pepper, to taste
For the sauce:
45g (1 1/2 oz) butter
1 large shallot, diced
2 tbsp white wine vinegar
45g (1 1/2 oz) flour
500ml fish stock
6 tbsp double cream
1 1/2 tsp chopped fresh dill or chives, chopped
salt and freshly ground black pepper, to season
For the salmon and cod filling:
250g (9 oz) salmon, skin removed and cut into 2 cm (3/4 in) chunks
250g (9 oz) cod, skin removed and cut into 2 cm (3/4 in) chunks
2 large British Lion eggs, boiled for 7 to 8 minutes, cooled and chopped
100g frozen peas (defrosted)
Method
Pre-heat the oven to 200ºC/400ºF/Gas 6. Boil the potatoes in salted water. Drain and mash with the butter, milk and parmesan and season to taste.
To make the sauce, melt the butter and sauté the shallot for 5–6 minutes until soft.  Add the white wine vinegar and boil for 2–3 minutes until the liquid has evaporated. Stir in the flour to make a roux. Gradually, stir in the fish stock and then cook over a medium heat, stirring continuously. Bring to the boil then cook stirring until thickened.  Remove from the heat and stir in the cream and the chopped dill or chives. Season well as the fish is unseasoned.
Mix the salmon and cod with the sauce, stir in the chopped boiled egg and put into an 18 cm (7 in) diameter round pyrex dish . Cover with the frozen peas and top with the potatoes. Brush the potatoes with a little beaten egg white and bake in the oven for about 25 minutes.
Alternatively you can divide the fish and egg between four or six mini ramekins (depending on the size), pour over the sauce top with a layer of peas and then cover with the mashed potato. It's nice to make individual fish pies for children.
Click on the stars to rate this recipe: