Annabel Karmel's funny face noodle stir fry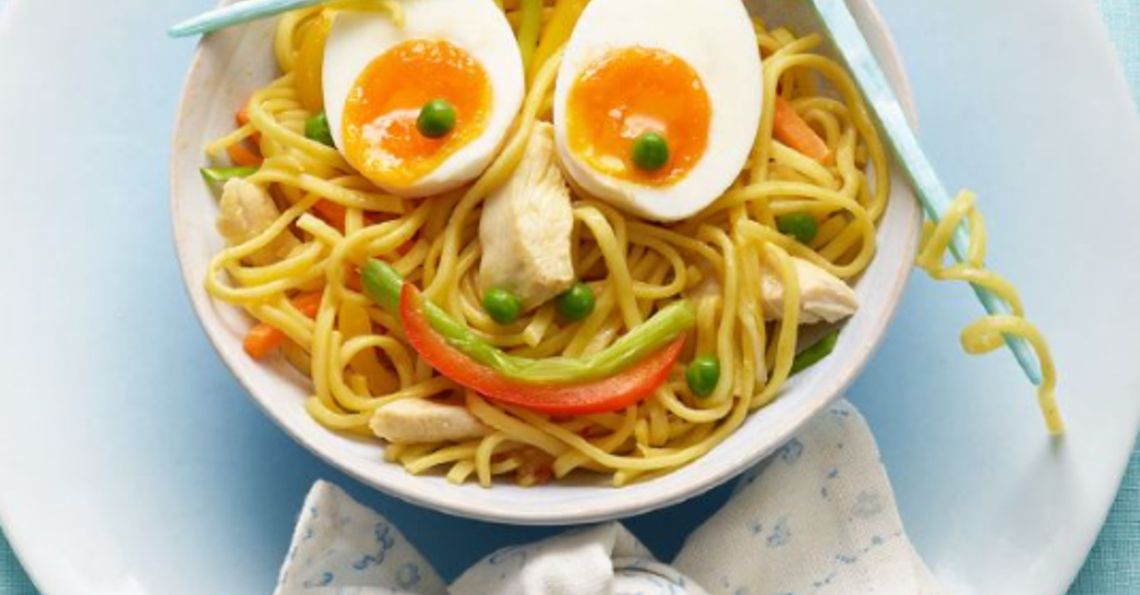 Serves: 2
Prep: 10 mins
Cook: 10 mins
A fun and tasty stir-fry for toddlers that's packed full of nutrition. The egg provides high quality protein, vitamins and minerals and there's additional protein from the chicken, carbohydrate from the noodles and vitamin C from the vegetables. Suitable from around 12 months.
Ingredients
2 teaspoons sunflower oil
60g raw chicken, sliced into small thin strips
50 carrot, peeled and sliced into thin strips
20g yellow pepper, sliced into thin strips
20g red pepper, sliced into thin strips
2 spring onions, sliced
½ small clove garlic, crushed
60g cooked egg noodles
25g cooked edamame beans or peas (optional)
1-2 teaspoon sweet chilli sauce
1 medium British Lion egg
Extra red pepper to decorate
Method
1.    Heat the oil in a frying pan or wok. When hot, add the chicken and fry for 3-4 minutes until cooked through, transfer to a plate.
2.    Add the carrot, peppers, spring onions and garlic to the pan. Fry for 2-3 minutes.
3.    Snip the cooked noodles into short lengths about 5cm long and add to the pan with the edamame beans and sweet chilli sauce. Fry for 2 minutes, then return the chicken to the pan.
4.    Meanwhile, put the egg into a small saucepan. Cover with cold water and a lid. Bring up to the boil, then boil rapidly for 3-4 minutes. Drain and run under cold water.
5.    When cool enough to handle, remove the shell and slice in half. The yolk will be soft but still runny.
6.    Arrange the eggs to look like eyes on top of the noodles. Put two edamame beans on top to make eye balls. Make a nose and mouth out of the extra red pepper.
The Food Standards Agency (FSA) has changed its advice on eggs, confirming they are now safe to be eaten runny, and even raw, by vulnerable groups including infants, children and pregnant women as long as they are British Lion.
Click on the stars to rate this recipe: