Annabel Karmel's lovely lentil and egg puree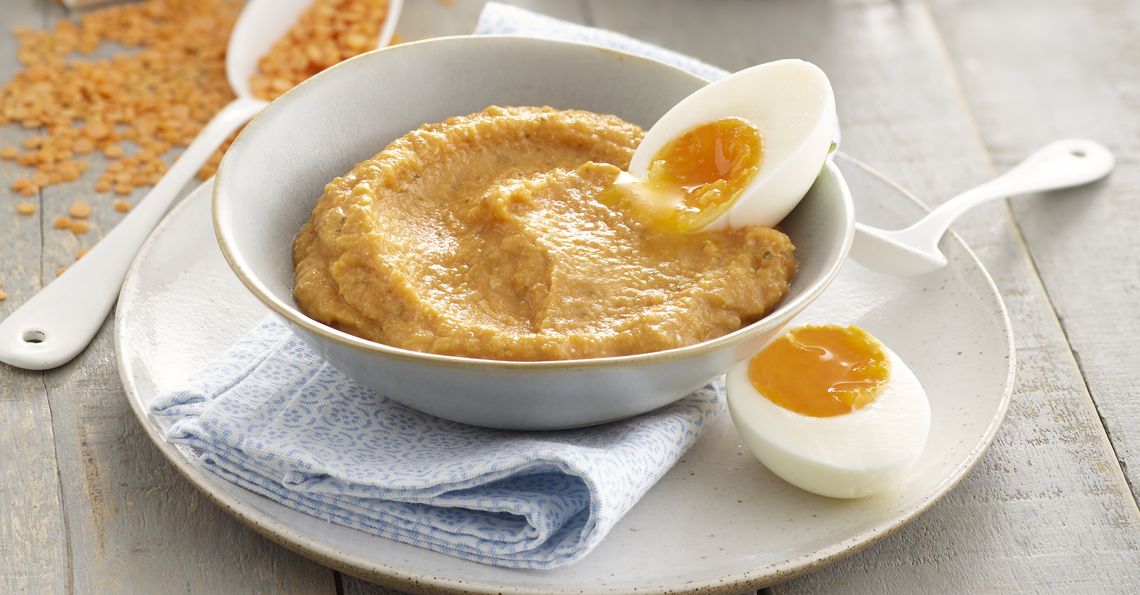 Serves: 2
Prep: 10 mins
Cook: 25 mins
A delicious and nutritious meal, providing high quality protein, important vitamins such as vitamin D, minerals including iodine, and omega-3 fats from the egg, as well as ingredients that provide other important nutrients for developing babies including protein from the lentils and extra vitamins and minerals from all the vegetables. For the early days of weaning you can mix the egg into the lentils and later on you can serve the egg separately and encourage baby to dip pieces into the lentil puree. Suitable from six months.
Ingredients
2 teaspoons olive oil
1 leek, sliced
150g sweet potato, peeled and diced
70g courgette, sliced
1 clove garlic, crushed
30g dried red lentils
150g chopped tomatoes
250mls vegetable stock
1 medium British Lion egg
Method
Heat the oil in a saucepan.
Add the leek, potato and courgette and fry for 2-3 minutes.
Add the garlic and fry for 30 seconds.
Add the lentils, tomatoes and stock. Cover with a lid and simmer for 20 minutes until the vegetables and lentils are tender.
Put the egg into a small saucepan. Cover with cold water and a lid. Bring up to the boil. Boil rapidly for 3 minutes. Drain and run under cold water.
When cool enough to handle, peel the egg and slice into quarters. The yolk should be runny.
Add the egg to the lentils and blend to a smooth or chunky consistency.
The Food Standards Agency (FSA) has changed its advice on eggs, confirming they are now safe to be eaten runny, and even raw, by vulnerable groups including infants, children and pregnant women as long as they are British Lion.
Click on the stars to rate this recipe: