Annabel Karmel's omelette pinwheels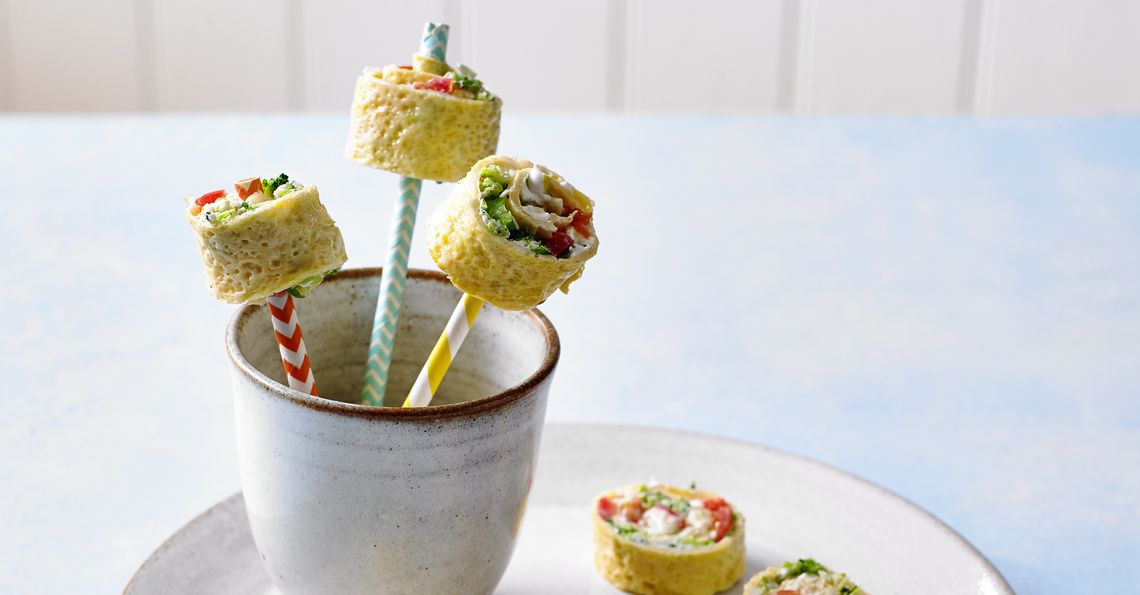 Serves: 4
Prep: 10 mins
Cook: 15 mins
Roll-up! Roll-up! These omelette pinwheels are colourful and fun on their own, or thread them onto colourful paper straws for a spring show stopper – a nutritious treat for brunch, lunch or dinner.
Ingredients
1 tbsp sunflower oil
4 medium British Lion eggs
2 tbsp milk
3 heaped tbsp cream cheese
75g broccoli florets
6 cherry tomatoes, chopped
50g grated Cheddar cheese
9 paper straws, cut in half (to make 18)
Method
Beat the eggs and milk together in a jug.
Heat the oil in an omelette pan measuring about 20-23cm wide.
Pour in 1/3 of the eggs. Swirl around the pan to make an even layer.
Cook for 2 minutes until set underneath. Flip over and cook for one minute on the other side. Transfer to a plate
Repeat to make two more then leave to cool.
Steam the broccoli for 6 minutes until just cooked. Cool, then finely chop.
Put the omelettes flat on a board and spread the cream cheese over the omelettes . Top with the chopped broccoli, tomatoes and Cheddar cheese.
Roll-up to make a log shape and then slice each log into 5 to 6 pieces to make snail-like pinwheels.
To serve, push each pinwheel onto a paper straw – kids eat with their eyes and will love this.
Click on the stars to rate this recipe: