Salmon egg fried rice, superfuel by Annabel Karmel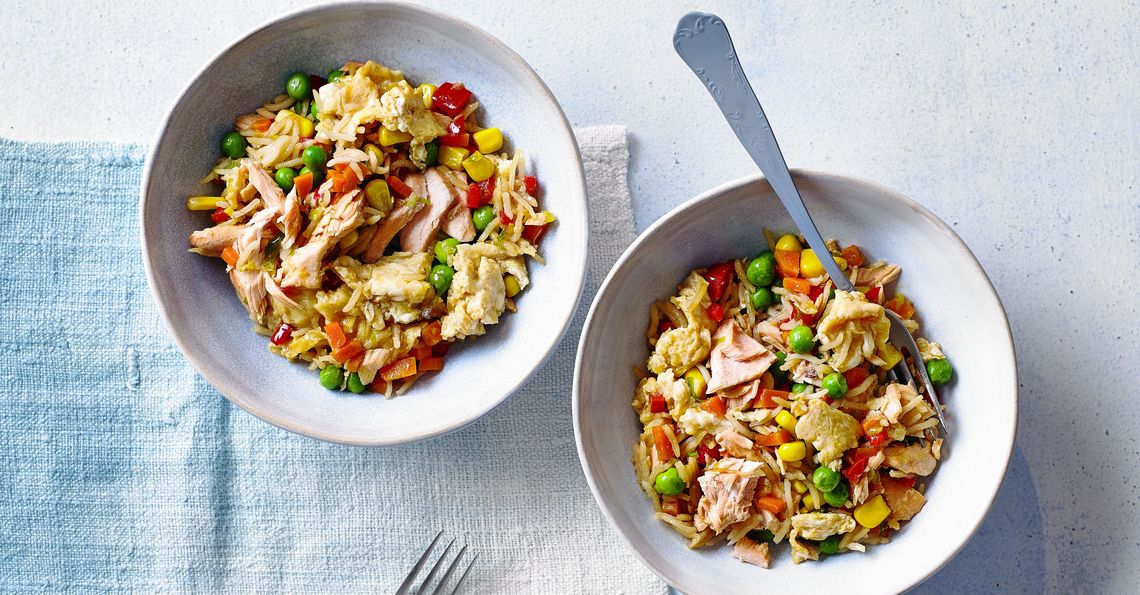 Serves: 4
Prep: 10 mins
Cook: 15 mins
An exciting salmon egg fried rice dish that introduces your little one to some new flavours. Eggs are a good source of high quality protein and are packed with vitamins and minerals. Both eggs and salmon provide essential omega 3 fatty acids so you have a supercharged combo. Introducing eggs early in the weaning process at around six months can also help protect babies against developing an egg allergy.
Suitable from around 12 months.
Ingredients
125g basmati rice
2 salmon fillets
2 tbsp sunflower oil
4 spring onions, finely diced
½ red pepper, deseeded and finely diced
1 small carrot, peeled and finely diced
1 clove garlic, crushed
2 tbsp tinned sweetcorn
50g frozen peas
Reduced salt 1 ½ tsp hoisin sauce
Reduced salt 1 tsp soy sauce
Knob of butter
3 large British Lion eggs
1 tsp soy sauce
Method
Cook the rice in boiling water according to the packet instructions. Drain and leave to cool.
Meanwhile, place the salmon fillets in a microwave safe dish and cover with clingfilm. Microwave the salmon for 3 ½ minutes. Pierce the fish with a fork in the centre to check the salmon is cooked through (or you can oven cook at 180˚C Fan). Set aside.
Heat the oil in a wok. Add the onions, pepper, carrot and fry for 4 to 5 minutes.
Add the garlic and fry for 15-20 seconds.
Add the cooked rice, peas and sweetcorn and toss over a high heat.
Add the hoisin sauce and soy, flake the salmon into the wok.
Separately, beat the eggs in a small bowl with the teaspoon of soy sauce. Melt the butter in a small frying pan. Add the egg and stir over a medium heat until scrambled.
Add the scrambled egg to the wok and gently fold in and serve.
Click on the stars to rate this recipe: