Annabel Karmel's sweet potato and spinach nests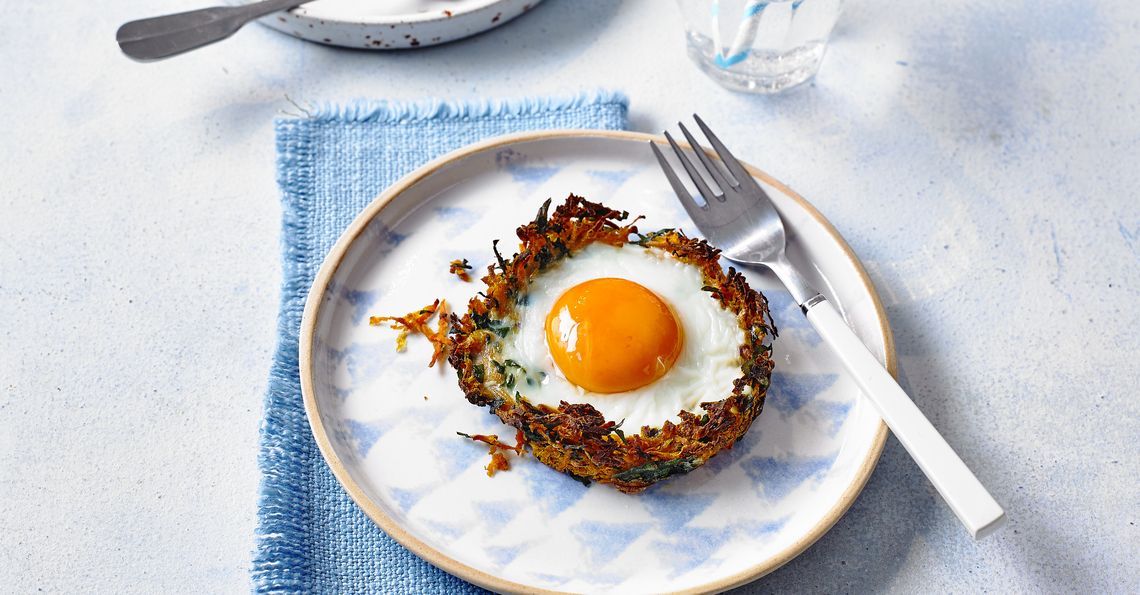 Prep: 10 mins
Cook: 35 mins
Change up teatime with these protein-packed pleasers. Little ones will love eating from their own baked pot and they'll never guess it's two of their 5-a-day!
Ingredients
200g sweet potatoes, peeled and grated
25g spinach, shredded
2 tbsp olive oil
4 large British Lion eggs
4 cookie cutters (roughly 8 / 9cm diameter)
Method
Preheat the oven 180˚C Fan / 400˚ F / Gas 6. Line a baking tray with greaseproof baking paper.
Put the grated sweet potato into a clean tea towel and squeeze out any excess liquid.
Place in a large bowl and add the shredded spinach and oil.
Mix well and spoon into 4 lightly greased metal cookie cutters (flat edge face down) and place on the prepared baking tray. Spread the mixture out across the base and sides of each to make a nest.
Bake for 20 minutes.
Remove from the oven and crack one egg into each of the nests.
Bake for another 12 to 15 minutes until the whites are set, but the yolk is still runny in the middle.
Leave to cool slightly. Run a sharp knife around the edge of the cookie cutter to loosen the mixture slightly and then carefully lift the cookie cutter to remove. Your egg nests are now ready to serve to your flock.
Click on the stars to rate this recipe: