Cheese gougeres with tomato chilli jam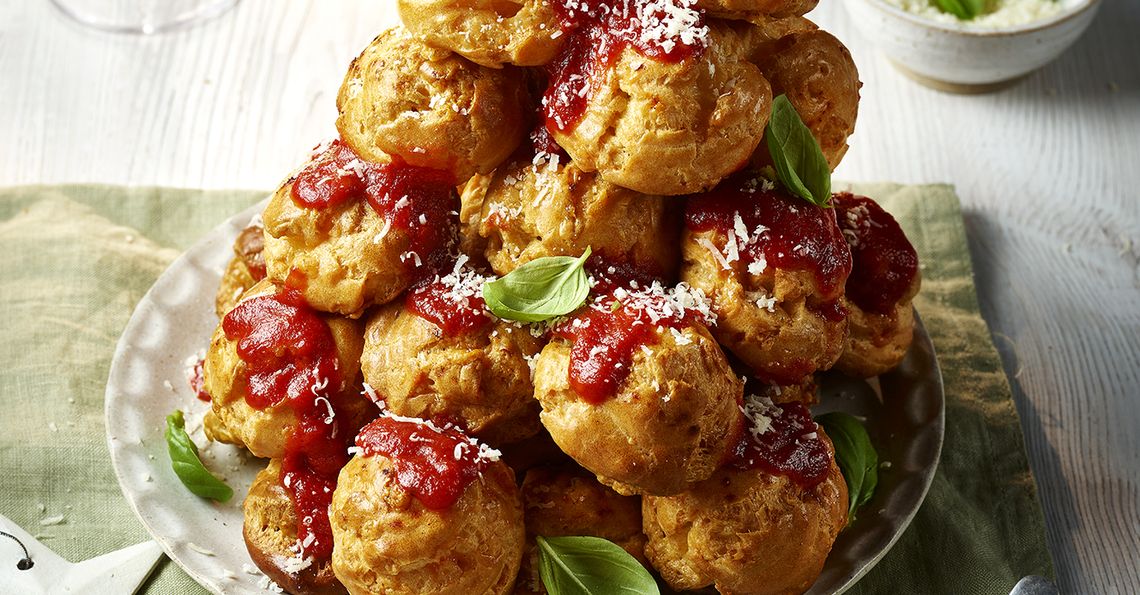 Serves: 10
Prep: 15 mins
Cook: 30 mins
Spice up your festive spread with out Cheese Grougeres, paired with a tomato chilli jam
Ingredients
75g unsalted butter
1 tsp salt
1g plain flour, sifted
2 tsp Dijon mustard
4 medium British Lion eggs
150g Gruyere cheese, grated
400g passata
75g caster sugar
50ml white wine vinegar
1 tsp smoked paprika
1 tsp dried chilli flakes
Salt and ground black pepper
15g freshly grated parmesan cheese
Basil leaves or watercress to serve
Method
1. Preheat the oven to 220oC/Fan 200oC/ Gas Mark 6. Pour 250ml water into a medium pan, add the butter and salt and bring to the boil. Add the flour and mustard and beat the mixture well. Cook over a low heat for about a minute, beating the mixture with a wooden spoon until it forms a ball and comes away the sides of the pan. Cool for a five minutes.
2. Crack the eggs into a jug and beat together, use an electric whisk to add the egg in two or three batches whisking between additions until you have a shiny batter which holds its shape. Stir in the gruyere cheese.
3. Line a couple of baking sheets with non-stick paper. Use a teaspoon or piping bag fitted with a plain nozzle, to drop 36 walnut-sized blobs of the mixture well apart on the prepared trays - they will puff up a lot so leave about 5 cm between each. Bake for 20-25 mins until golden. * You can leave them to cool at this stage.
4. Whilst the gougeres bake make the chilli jam: place the passata in a medium pan with the sugar, vinegar, paprika, chilli and a good pinch of salt and pepper. Bring to the boil, then simmer uncovered  over a medium heat for 10 mins, stirring occasionally, until reduced and glossy. Cool.
5. When ready to serve, heap the warm gougeres up into a tower on a large plate - you can use a few cocktail sticks to help shore up the tower if liked - drizzle a little sauce over the gougeres, sprinkle with the Parmesan cheese and scatter over basil leaves. Serve warm with more of the chilli jam in a bowl to dip the gougeres in.
* once baked the gougeres can be kept in an airtight container for 48 hours. Reheat, on a large baking tray at 200oc/ Fan180oC/Gas Mark 6 for 10 mins until warm and crisp.
Click on the stars to rate this recipe: