Chinese duck pancakes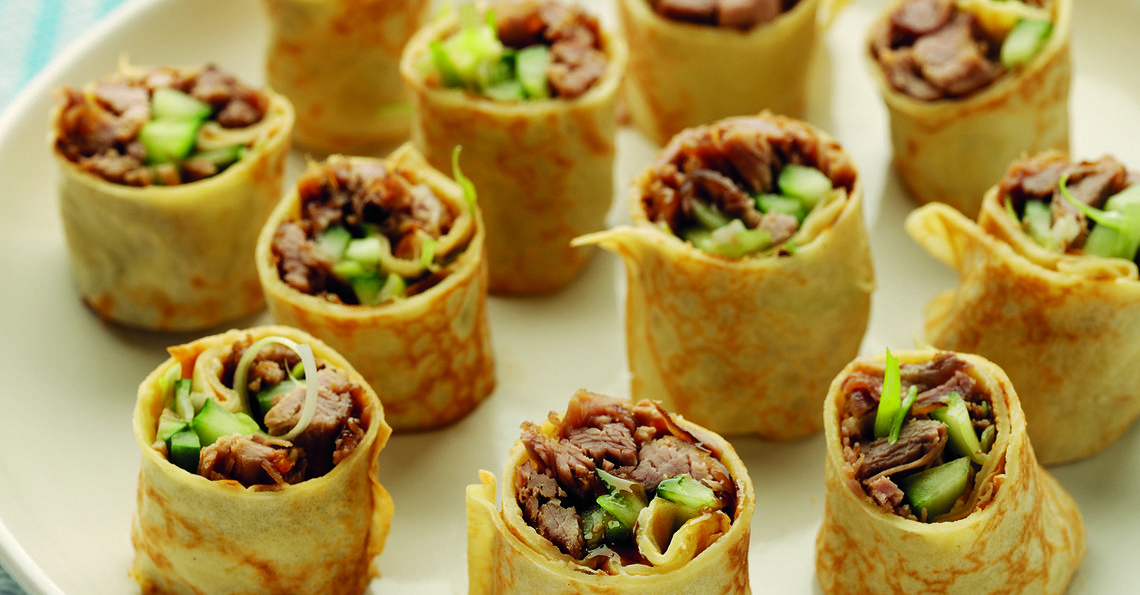 Serves: 4
Prep: 10 mins
Cook: 55 mins
Ingredients
For the pancakes:
40g/1½ oz. plain flour
A pinch of salt
1 large British Lion egg
100ml/4 fl oz. milk
A little oil for frying
For the filling:
1x (550g) a pack of oven ready half crispy aromatic duck
75ml/3floz Plum or Hoisin sauce (usually included with the duck pack)
4 spring onions, trimmed
50g/2oz cucumber
Method
Cook the duck according to pack instructions: place the duck in a roasting tray and cook for 35-40 minutes at 200°C/Fan 180°C/gas Mark 6.
 Whilst the duck cooks, cut the spring onions into 5 cm sections then finely shred each piece. Pop the shredded spring onion in a little bowl in the fridge. Halve and deseed the cucumber, then finely shred this into sticks and set aside.  
 Remove the duck from the oven and transfer it to a board. Use two forks to remove the duck from the bones and finely shred the meat, include a little of the crisp skin if you like. Drain the spring onions, they will have gone curly.
Place the flour, salt and eggs in a large bowl. Add half of the milk and whisk well until the mixture is lump free. Add the remaining milk and whisk again until smooth. If you prefer, place all ingredients in a food processor and blend until smooth. Pour the batter into a jug.
Heat a 20cm/8in diameter non-stick frying pan until hot, drizzle a little oil over the centre and wipe around the pan with a piece of kitchen paper. Pour a little of the batter into the pan and immediately tilt the pan to spread the batter thinly and evenly over the base. Cook for 1-2 minutes or until the top is set and the base is golden.
Flip over the pancake and cook for a further 1-2 minutes or until the base is golden. Transfer to a plate, cover with foil and keep warm. Use the batter to make a further 3 pancakes in the same way.
To assemble, take 4 pancakes and spread a teaspoon of plum sauce over each. Arrange a 2.5cm/1in wide strip of shredded duck, down the centre of the pancake then top with shredded cucumber and spring onion.
Fold the two sides in over the end of the duck strip then starting at the edge of the pancake tightly roll up the pancakes enclosing all the filling. Slice each into 3 pieces. Arrange the pancakes on their ends large plates and serve as a starter or party food with a little more plum sauce if liked.
Click on the stars to rate this recipe: