Chorizo, eggs, leeks and mash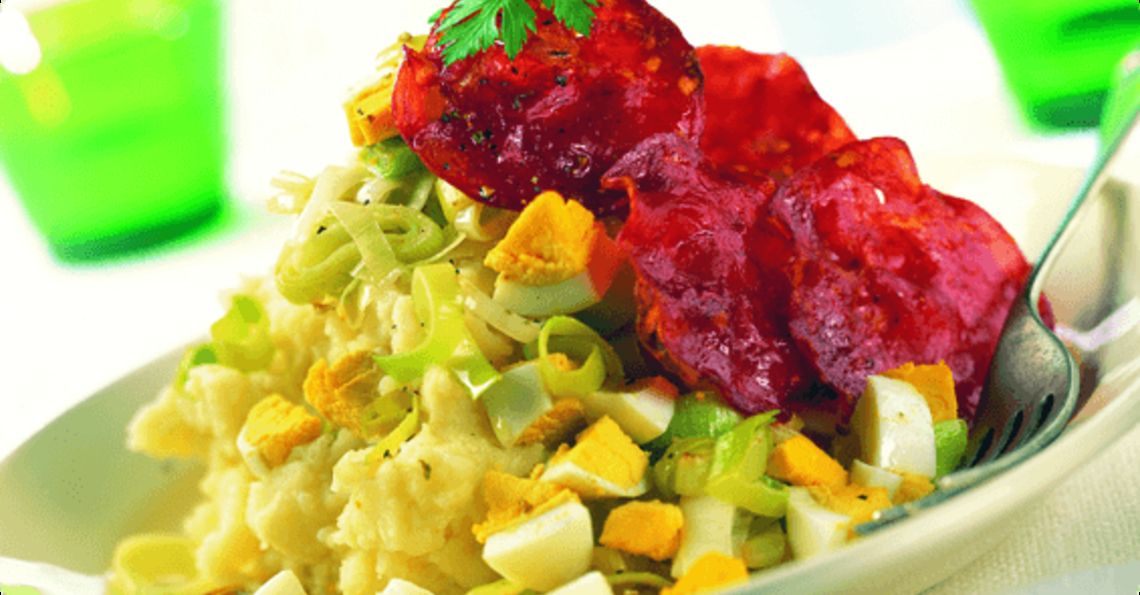 Serves: 4
Prep: 10 mins
Cook: 15 mins
A substantial family meal that is both satisfying and tasty.
Ingredients
1 kg (2lb 4oz) potatoes, cut into even-sized chunks
4 large British Lion eggs
1 tablespoon olive oil
1 garlic clove, crushed
3 leeks, sliced
75g (3oz) chorizo sausage, sliced
5-7 tablespoons milk
salt and freshly ground black pepper
Method
Cook the potatoes in a large pan of boiling water for 12-15 minutes or until soft. Drain and mash with some milk and some seasoning. Keep warm.
Meanwhile put the eggs in a small pan, cover with cold water and bring to the boil. Boil for 7 minutes and then drain and rinse in cold water, tapping the shells all over. When cold enough to handle, peel and chop.
Heat the oil in a small frying pan and cook the garlic and leeks for 5-6 minutes, stirring regularly, until tender and lightly browned. Grill the chorizo under a hot grill for 1-2 minutes until crisp.
Spoon mashed potato onto four warmed plates. Top with the sautéed leeks, chopped hard-boiled egg and crisp chorizo. Garnish with flat-leaf parsley.
Click on the stars to rate this recipe: