Christmas cake (last minute)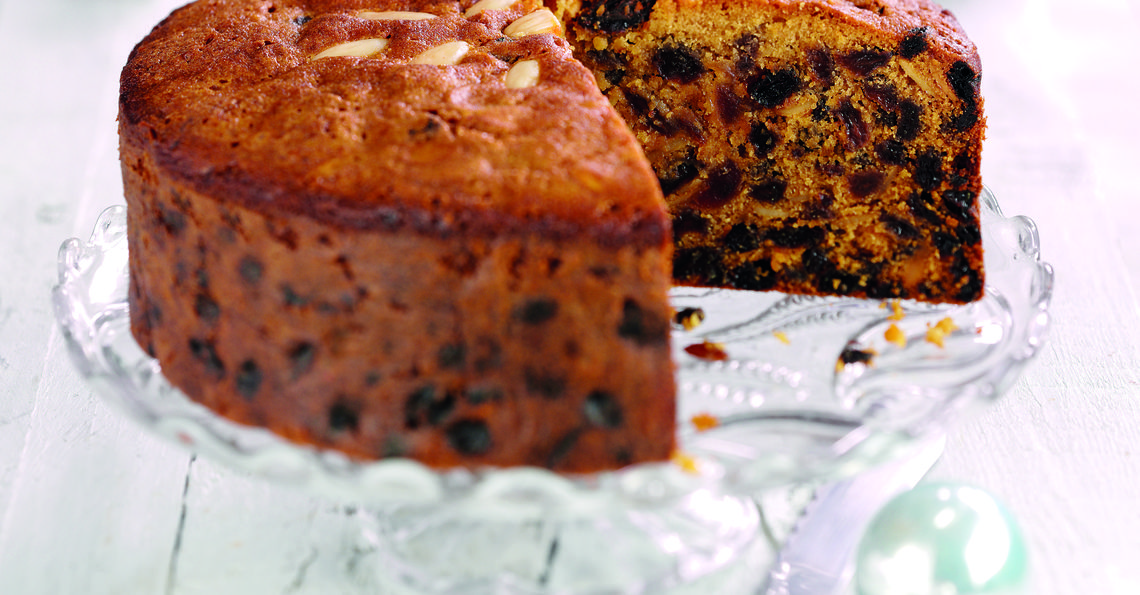 Serves: 12
Prep: 15 mins
Cook: 120 mins
Ingredients
675 g (1 1/2 lb.) mixed dried fruits
75 g (2 3/4 oz.) glace ½ cherries, quartered
1 lemon, zest and juice
1 orange, zest and juice
4 tablespoons dark rum or brandy
225 g (8 oz.) butter, softened
225 g (8 oz.) light soft brown sugar
4 large British Lion eggs, beaten
225 g (8 oz.) plain flour
1/2 teaspoon mixed ground spice
1/2 teaspoon ground cinnamon
50 g (1 3/4 oz.) flaked almonds
Method
Place the first four ingredients in a medium pan.
Bring to the boil. Remove from the heat and stir in the rum or brandy. Cool.
Preheat the oven to Gas Mark 3/170C/320F.
Grease a 20cm (8-inch) deep round cake tin and line with baking parchment.
Purée one third of the fruit in a food processor.
Cream the butter and sugar together with an electric whisk until soft and fluffy.
Gradually add the eggs, beating well between additions.
Stir in the flour and spices.
Stir in the fruit purée and then the almonds and fruits. Spoon into the tin and level the surface.
 Bake for 2 - 2 1/2 hours. Cool in the tin.
Click on the stars to rate this recipe: