Vegetable en croute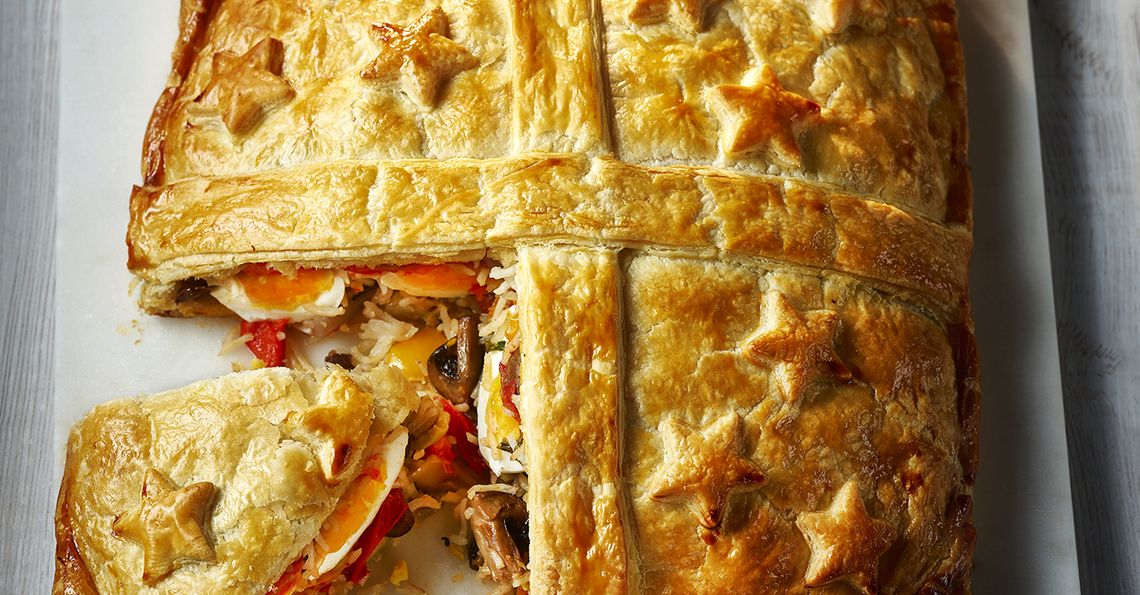 Serves: 8
Prep: 15 mins
Cook: 60 mins
A hearty combination of golden pastry, roasted vegetables, and perfectly cooked British Lion eggs. Our eggs and Roasted Vegetable en Croute makes the perfect centrepiece for a family feast!
Ingredients
1 red, yellow, and orange pepper, deseeded
2 red onions, peeled
200g chestnut mushrooms, quartered
2 tbsp olive oil
100g cherry tomatoes, halved
11 medium British Lion eggs
1 (250g) sachet cooked basmati
Method
Preheat the oven 220°C/Fan 200°C/ Gas 8. Cut the peppers and onion into 3 cm chunks, tip into a large roasting tray along with the mushrooms and the oil. Season well, then toss everything together until coated in oil. Roast for 20-25 mins or until golden around the edges. Stir in the cherry tomatoes.
Meanwhile, place 10 of the eggs in a large pan and cover with cold water. Bring to the boil, then simmer uncovered for 6 minutes - the water needs to be bubbling.
Drain the eggs, and run them under cold water, tapping the shells as they cool. Once cold enough to handle, peel and discard the shells. Cut the eggs in half and leave to cool.
When the vegetables are ready, tip the rice into the roasting tin, add the basil and olives and mix well - season to taste. Leave to cool.
Unroll the pastry sheets - trim one to a 23cm square, cut the trimmings into two 3 cm wide, long strips. Beat the final egg and brush a little around the edge of the pastry square, 6 Heap half the rice mix into the centre leaving a 2.5cm border, spreading it in an even layer. Top with the halved boiled eggs, cut side up and then spoon over the rest of the rice mixture. Lay the second pastry sheet on top and press to seal the edges.
Trim the excess pastry and use a star cutter to press out decorations. Brush all the pastry parcel with more beaten egg and attach the decorations. Chill until ready to bake.
Bake at 220°C/Fan 200°C/ Gas 8 for 25 mins until the pastry is puffed and golden. Serve decorated with herbs. Serve hot to cold with salad leaves.
Click on the stars to rate this recipe: