Egg pizza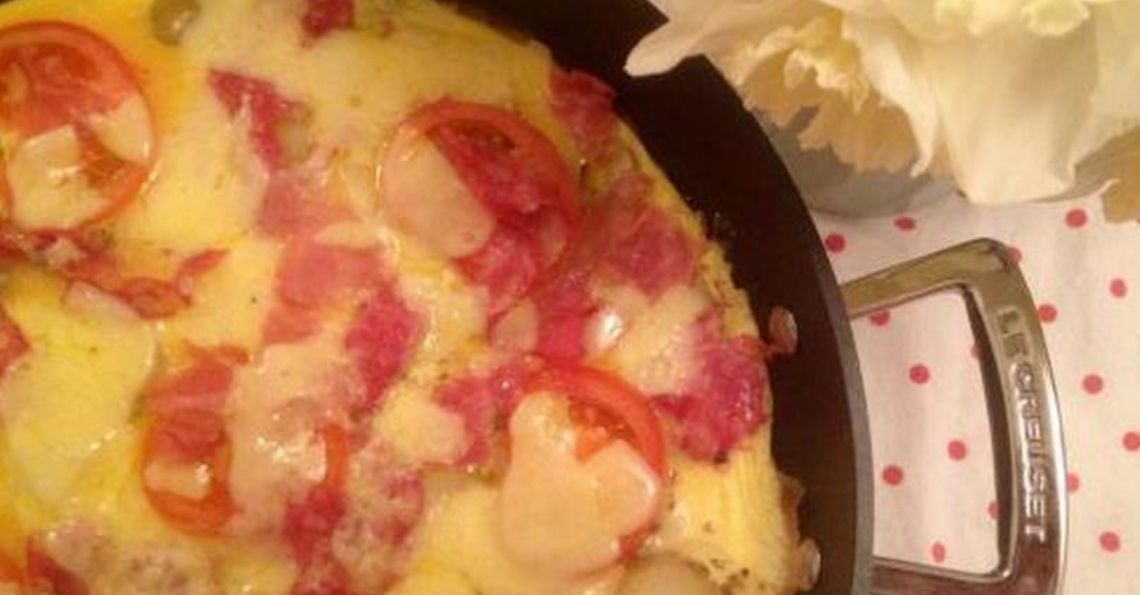 Serves: 4
Prep: 5 mins
Cook: 20 mins
Ingredients
500g new potatoes
3 tomatoes
1 cup milk
1 tsp dried oregano
Medium Cheddar cheese
1 white onion
Parma ham, salami, pastrami, pepperoni, ham or chicken
6 British Lion eggs
Salt and pepper
Method
Thinly slice your potatoes and boil until tender.
While the potatoes are cooking, finely chop your onions, slice your tomatoes and tear your meats.
Slice or grate your cheese.
In a jug whisk your eggs and mix with a big glug of milk (about a cupful).
Season the eggs with a little salt, some pepper and a half teaspoon of dried oregano.
Heat a teaspoonful of olive oil and once your potatoes are tender add them to the pan.
Cook for a minute or two and then add the onions.  Don't stir, but allow to cook for another minute.
Pour the egg over the potatoes and onions.
Add the tomatoes and meats.
Allow to cook until the edges of the omelette start to come away from the pan.
Spread the cheese over the top and then place under the grill.
Cook until the cheese melts and the egg is set. Serve straight away. 
Recipe courtesy of http://www.vintagefolly.com
Click on the stars to rate this recipe: