Eggy bread with guacamole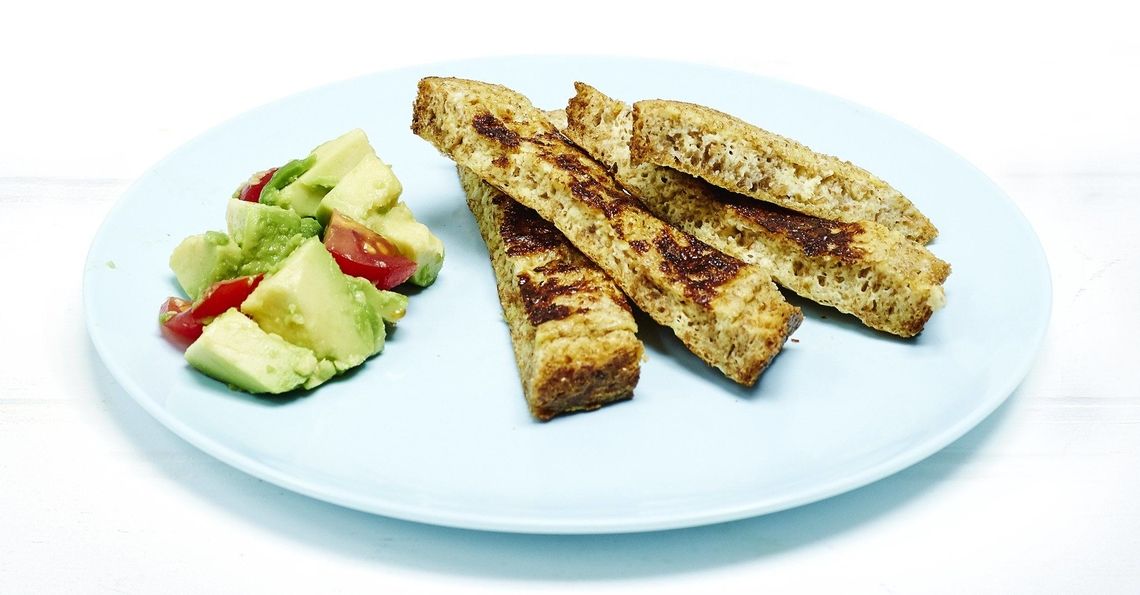 Serves: 1
Prep: 10 mins
Cook: 10 mins
A delicious eggy bread served with a tasty guacamole on the side. The meal provides high quality protein, important vitamins such as vitamin D, minerals including iodine, and omega-3 fats from the egg plus there's carbohydrate and fibre from the bread and vitamin E from the avocado.
Suitable from around 12 months.
Ingredients
1 British Lion egg
50ml whole milk
1 slice wholemeal bread (something thick such as a bloomer)
Knob of unsalted butter or cooking oil
For the guacamole
½ avocado
1 cherry tomato, finely chopped
Squeeze of juice from a lime
Drizzle of olive oil
Method
Beat together the egg with the milk in a wide shallow bowl until combined. Season if you like and lay the slice of bread on top. Use a spoon to push it down and leave for 5 minutes to soak up the egg before turning it over to soak the other side for another 5 minutes.
Meanwhile, peel and de-stone the avocado and spoon the flesh into a bowl. Mash lightly with a fork and stir through the tomatoes, lime juice and olive oil. 
Melt the butter in a frying pan over a medium heat, and when it starts to bubble slightly, lift the egg-soaked bread in. Fry for 5 minutes on each side, spooning over any remaining egg before you turn the bread over. Move to a board or plate and slice into fingers. Serve with the guacamole.
Click on the stars to rate this recipe: