Eton Christmess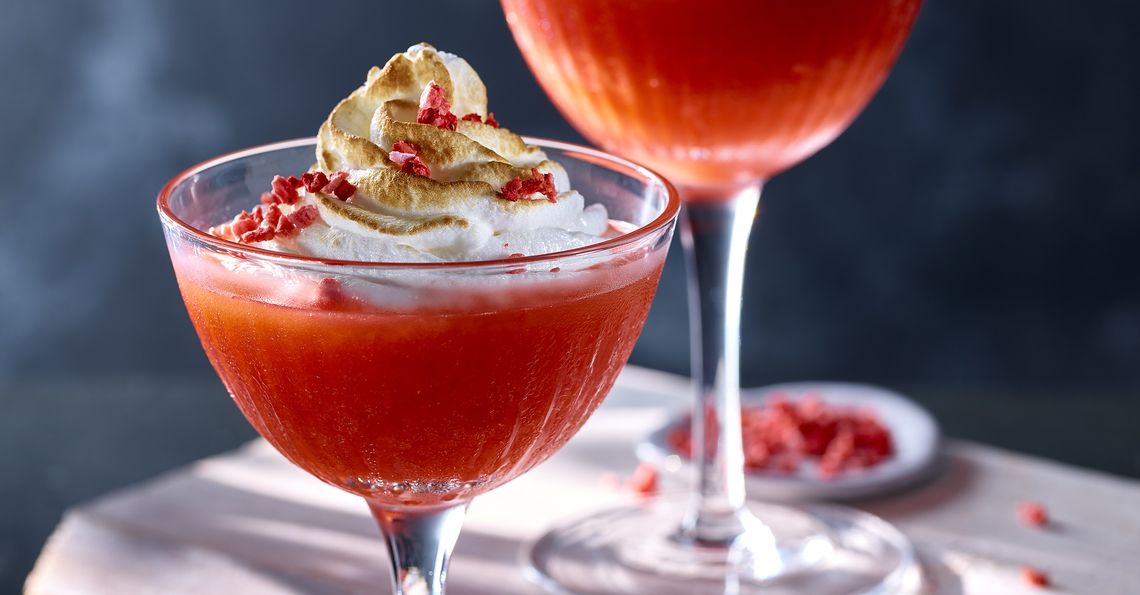 Ingredients
2 medium British Lion egg whites
110g caster sugar
300g frozen strawberries
150ml golden or white rum
Juice 2 limes or 1 large lemon
2 tbsp agave nectar
Ice
Freeze dried strawberries (to garnish)
You will also need: a large piping bag with large star nozzle, sugar thermometer, blowtorch (optional)
Method
For the meringue:
1.    Prepare the meringue ahead of time. It will hold in the fridge for up to a day once made and sealed in a large piping bag. Place sugar in a small saucepan with 3tbsp water. Heat gently until the sugar has dissolved, wiping any sugar crystals from the sides of the pan with a silicon brush dipped in water.
2.     Increase the heat and bring to a gentle boil for a few minutes until syrupy but still transparent. Check the temperature with a sugar thermometer, it needs to read 120˚C. 
3.    Meanwhile, in a clean mixing bowl, whisk British Lion egg whites with an electric whisk until they form stiff peaks. 
4.    Once the sugar syrup is up to temperature, slowly pour it into the British Lion egg whites, whisking constantly until thick, glossy and smooth. Leave to cool in the bowl for a few minutes. 
5.    Fit a large piping bag with a large star nozzle and spoon in the meringue, seal the bag with an elastic band and place in the fridge. 
For the cocktail:
1.     Place strawberries, rum, lime or lemon juice and agave nectar in a blender. Whizz until smooth, then add a few handfuls of ice and blend again to form a slush. Pour into 6 chilled martini glasses.
2.    Pipe the meringue over the top forming a nice peak. If you have a blowtorch, quickly toast the meringue on each glass, being careful not to hit the glass with the flame. 
3.    Scatter over a few freeze-dried strawberry pieces and serve with a spoon. 
 
Cooks tips
For a non-alcoholic version: omit the rum and replace with orange or apple juice.
Click on the stars to rate this recipe: