Frittata fingers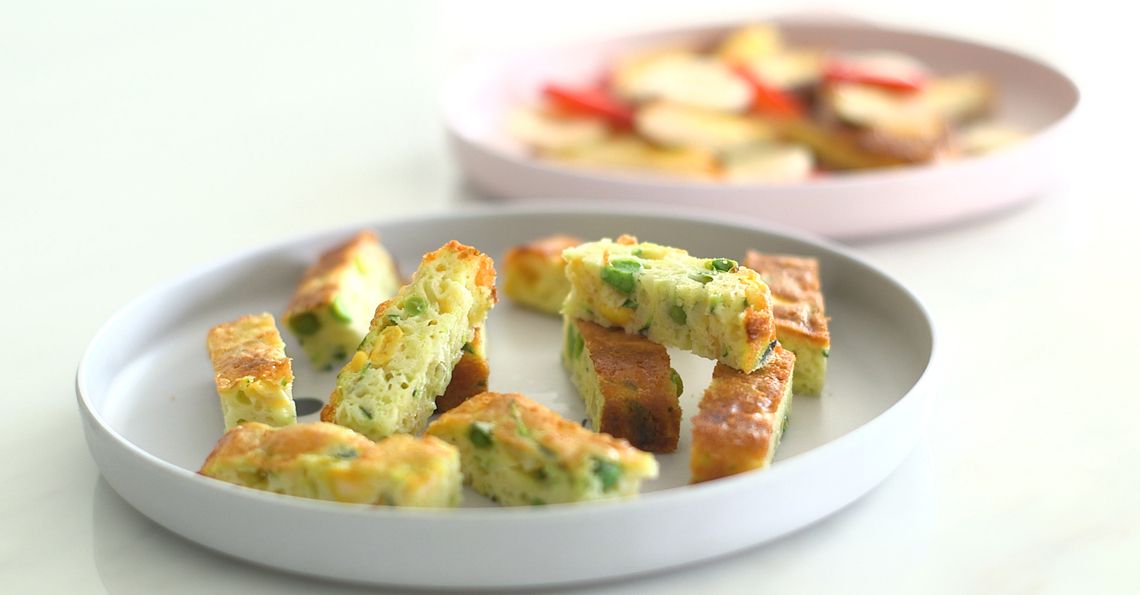 Prep: 5 mins
Cook: 40 mins
A tasty baked frittata that's cut into fingers to provide a nutritious meal, ideal finger food. It's packed full of important nutrients for developing babies with the eggs providing high quality protein, vitamins and minerals and other ingredients adding extra nutrients including calcium from the cheese and fibre from the vegetables. Suitable from six months.
Ingredients
5 British Lion eggs, whisked
150g courgette, grated
50g Cheddar cheese, grated
150g onions, diced
150g self-raising flour
150g sweetcorn and peas (frozen or tinned)
8tbsp sunflower oil
Method
Preheat the oven to 180C/160C fan/gas mark 4.
Line a baking tray with baking paper and set aside.
Mix all the ingredients, which should be roughly the same physical quantity, together in a large bowl, making sure they are well combined.
Empty the mix into the lined baking tray.
Cook in the oven for approximately 30-40 minutes until golden and cooked through.
Set aside to cool then turn out onto a chopping board.
Slice into baby-sized fingers once completely cooled.
Click on the stars to rate this recipe: