Greek filo with spinach pie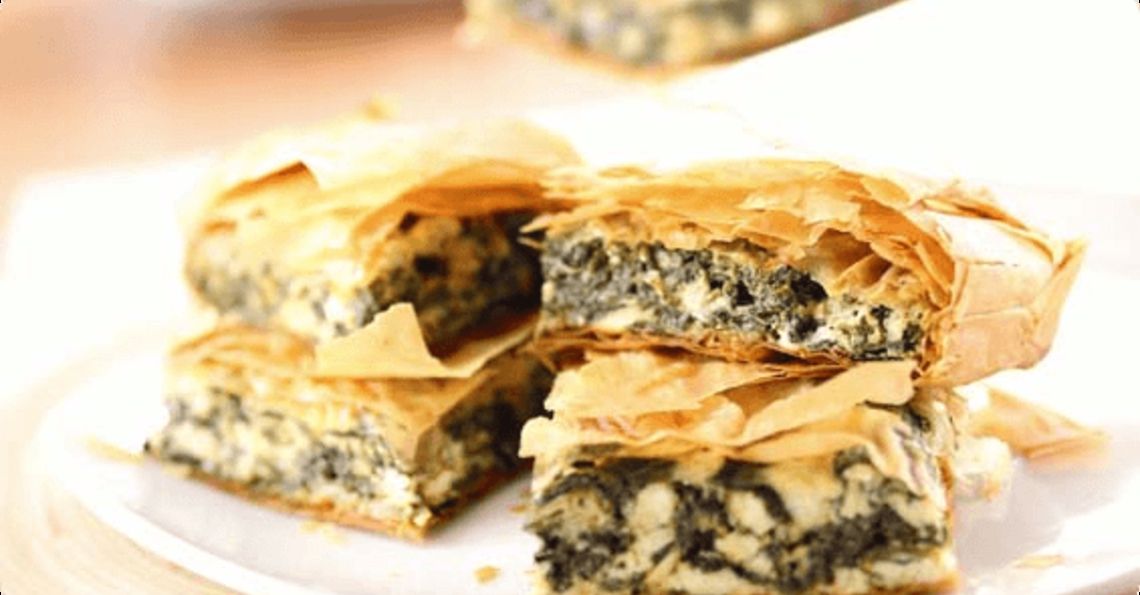 Serves: 6
Prep: 20 mins
Cook: 1 mins
The family will enjoy this delightful Greek filo with spinach pie
Ingredients
30ml/2tbsp olive oil
1 bunch spring onions, sliced
2 cloves garlic, crushed
450g/1lb young spinach leaves, washed
4 large British Lion eggs, beaten
1 (200g) pack feta cheese, crumbled
large pinch of grated nutmeg
salt and freshly ground black pepper
225g/8oz or 4 large sheets of filo pastry
75g/3oz butter, melted
Method
Preheat the oven to 190C/Fan 170C/Gas Mark 5. Heat the oil in a large pan, add the onion and garlic and sauté for 2 mins. Add the spinach, packing it into the pan. Cover with a lid and cook for 3 mins or until the leaves are wilted. Transfer to a sieve and press out the excess juices. Add the eggs, cheese, nutmeg, a little salt and plenty of freshly ground black pepper to the spinach then mix well.
Brush the inside of a 25x20 (10x8in) rectangular baking tin with butter. Brush the filo pastry sheets all over with melted butter. Lay the first sheet of pastry down in the tin, pressing it into the base and sides. Place the second sheet on top at a ninety degrees right angle - the pastry will overhang the tin quite a lot. Repeat with the remaining two sheets of pasty.
Spoon the filling into the pastry lined tin. Fold over the overlapping pastry, brushing with more butter as necessary. Brush the top with the remaining butter. Bake for 50-60 mins until the pastry is golden brown and crisp. Remove from the oven and cover with a teatowel for 5 mins. Mark the pie into 6 squares and allow to cool. Serve warm or cold with salad.
Click on the stars to rate this recipe: