Haddock with poached egg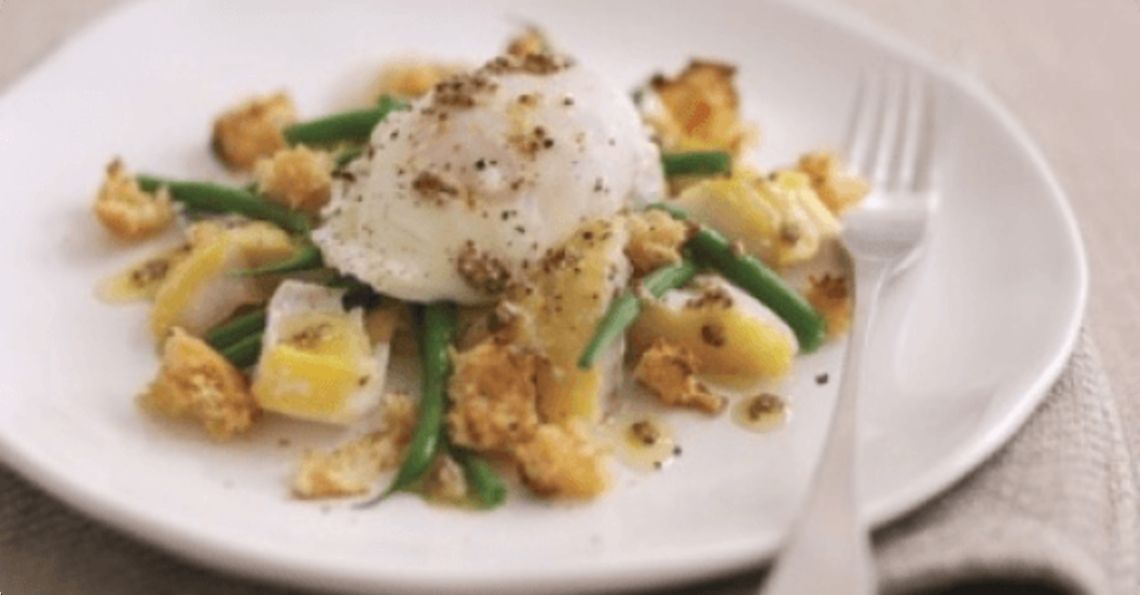 Serves: 2
Prep: 0 mins
Cook: 20 mins
Perfect poached eggs are one of life's little pleasures - add some succulent smoked haddock, complete with light fresh crunchy green beans for a hearty and protein-packed meal on a chewy ciabatta loaf.
Ingredients
Half piece ciabatta loaf, or a thick slice of any day-old bread, torn into pieces
4 tbsp olive oil
110g (4oz) fine green beans trimmed and halved
2 fillets smoked haddock, each weighing about 150g (5oz)
2 British Lion eggs
4 tsp white wine or cider vinegar
2 tsp wholegrain mustard
Salt and freshly ground black pepper
Method
Preheat the grill to hot. Scatter the pieces of bread on a baking sheet and sprinkle with 2 tbsp of the oil. Use your hand to coat the bread roughly in oil. Toast under the grill for 4–5 minutes until crispy and browned. Turn the bread pieces a couple of times to prevent them from burning.
Meanwhile, half fill a medium-sized saucepan with boiling water. Bring the water back to the boil and add the beans. Cook them for 3 minutes in the boiling water, then remove with a slotted spoon and put into a small bowl. Add 1 tbsp of the oil to the warm beans and stir to coat them.
Add the fish to the pan, cover and poach gently at a simmer over a low heat for 3–5 minutes, depending on the thickness of the pieces. Take the fish out with a fish slice and put onto a piece of kitchen paper on a warmed plate.
Add a splash of the vinegar to the pan of water, bring back to the boil and crack the eggs into the water. Poach them for 3 minutes, or to your liking.
Meanwhile, skin and break the fish into large flakes and put on the plate with the ciabatta croutons and beans. Place the poached eggs on top. Whisk the rest of the vinegar and the mustard into the remaining oil, then drizzle over the whole dish. Season with a little salt and lots of pepper.
Click on the stars to rate this recipe: