Little egg chicks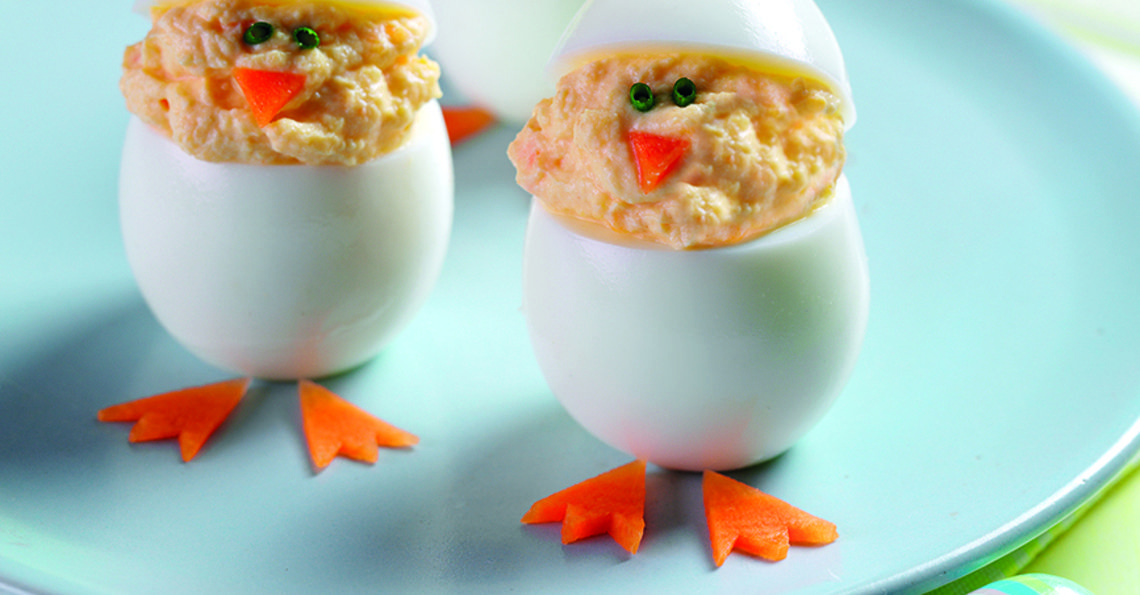 Serves: 8
Prep: 25 mins
Cook: 10 mins
A fun recipe for Easter and a healthier alternative to chocolate eggs. These little egg chicks are packed full of all the nutrients in eggs – high quality protein, vitamins and minerals as well as omega 3 fats. Suitable from around 12 months.
Ingredients
8 British Lion eggs
3 tbsp Greek yogurt
2 tsp Dijon mustard
½ carrot, sliced thinly into rounds
Chives or green peppercorns to decorate
Method
Place eggs into a pan of warm water, bring to the boil and cook for 7 minutes. Drain and cool in a large bowl of cold water. Once cooled, peel and shell.
Using a sharp knife take a very thin slice of the bottom of each egg so they sit flat on a plate, then slice off the top third of each egg and carefully scoop out the yolks into a small bowl. Mix with a fork with the yogurt and mustard until smooth. Use a teaspoon to spoon the mixture back into the egg whites.
Add the egg 'lids' then add a beak made from a small triangle of carrot and eyes made from snipped chives. For the feet, cut the sliced carrot into triangles, then cut out smaller triangles from the rounded edge to make claws, and arrange these under the base of the egg.
Nutritional information, per serving:

| Calories | Carbs | Protein | Fat | Saturates | Salt |
| --- | --- | --- | --- | --- | --- |
| 80 | 0.8g | 7.0g | 5.6g | 1.8g | 0.4g |
Click on the stars to rate this recipe: