Low calorie egg and vegetable noodle slice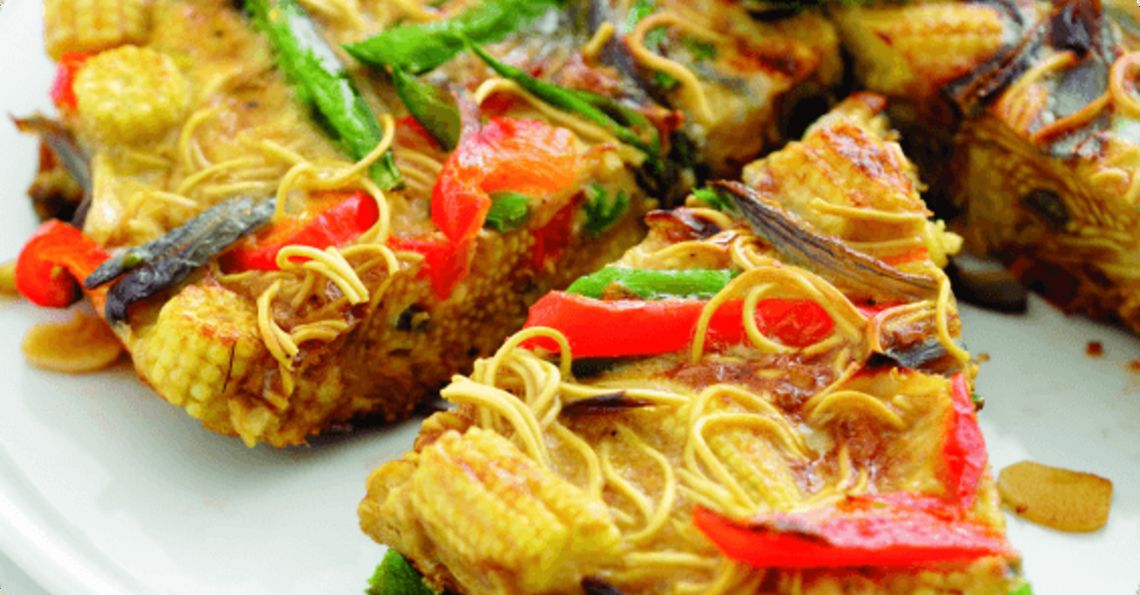 Serves: 6
Prep: 10 mins
Cook: 9 mins
As well as providing a delicious oriental style, low-calorie meal for the family, our egg noodle slice recipe can also be served cold and is great lunchbox food.
Ingredients
1 (75g) nest fine egg noodles
2 tbsp vegetable oil
1 red onion, sliced
1 red pepper, deseeded and sliced
100g baby corn, each sliced into 3
75g sugar snap peas, sliced lengthways in half
1 small clove garlic, crushed
2.5cm piece root ginger, peeled and grated
1 tbsp soy sauce
6 large British Lion eggs
salt and freshly ground black pepper
Method
Serve warm with salad or cold in packed lunches and picnics. Vary the veg to suit your own taste.
Place the noodles in a bowl, cover with boiling water from the kettle and leave to soak for 5 minutes. Stir once or twice. Drain, rinse in cold water and drain again.
Heat the oil in a large non stick frying pan, add the onions and peppers and stir fry for 3 minutes. Add the sugar snap peas, garlic and ginger and stir fry for a further 1 min. Stir in the soy sauce and noodles and mix well.
Beat the eggs with a little salt and plenty of pepper, pour into the pan, stir briefly to mix, the shake the pan to level the surface. Cook over a medium heat for 4-5 minutes or until the base has set and most of the egg has set.
Place the pan under a hot grill and cook for a further 2 minutes or until the top is golden brown. Leave to cool in the pan for 5 minutes. Transfer to a board and cut into wedges. If packing for a picnic, wrap in baking parchment and foil.
Nutritional information, per serving:

| Calories | Carbs | Protein | Fat | Saturates | Salt |
| --- | --- | --- | --- | --- | --- |
| 195 | 14.6g | 11.4g | 10.9g | 2.3g | 1.0g |
Click on the stars to rate this recipe: