Mini frittata muffins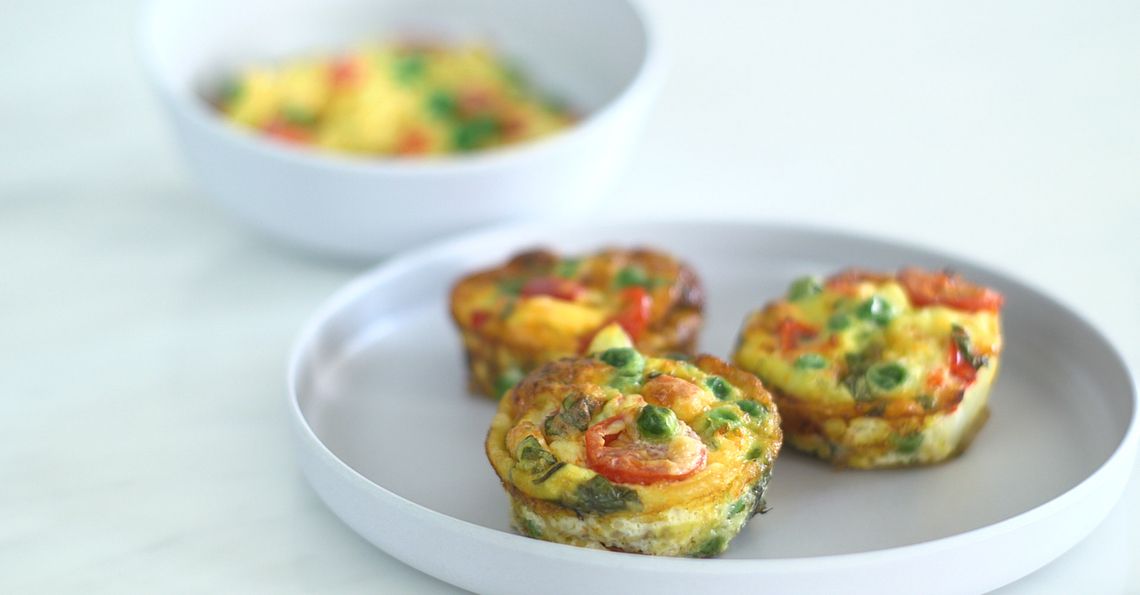 Prep: 3 mins
Cook: 35 mins
These tasty frittata muffins make a nutritious breakfast or snack for babies that can be cooked in advance. They're full of high quality protein, vitamins and minerals from the eggs and the other ingredients will add extra nutrients for developing babies, such as some vitamin C from the potato, pepper, peas and tomatoes and some calcium from the milk and cheese. Makes 12 muffins, enough for 4 portions.
Ingredients
6 small new potatoes, diced
4 large British Lion eggs
3 tbsp full fat milk
½ red pepper, deseeded and finely diced
50g frozen peas
2 tbsp fresh basil, chopped
50g Cheddar cheese, grated
8 cherry tomatoes, chopped in quarters
Method
Preheat the oven 180˚C Fan / 400˚ F / Gas 6.
Cook the potatoes in boiling water for 15 minutes. Drain, cool and dice.
Beat the eggs and milk together in a bowl. Add the diced potatoes, red pepper, peas, Cheddar cheese, tomatoes and basil. Mix together.
Spoon the mixture into the muffin tray. Bake for around 20 minutes until well risen, golden brown and set in the middle.
Leave to cool slightly before removing from the muffin trays. 
Cooks tips
For best results use a 12-hole silicone muffin tray
Click on the stars to rate this recipe: