MOB Kitchen's leftover dal fritters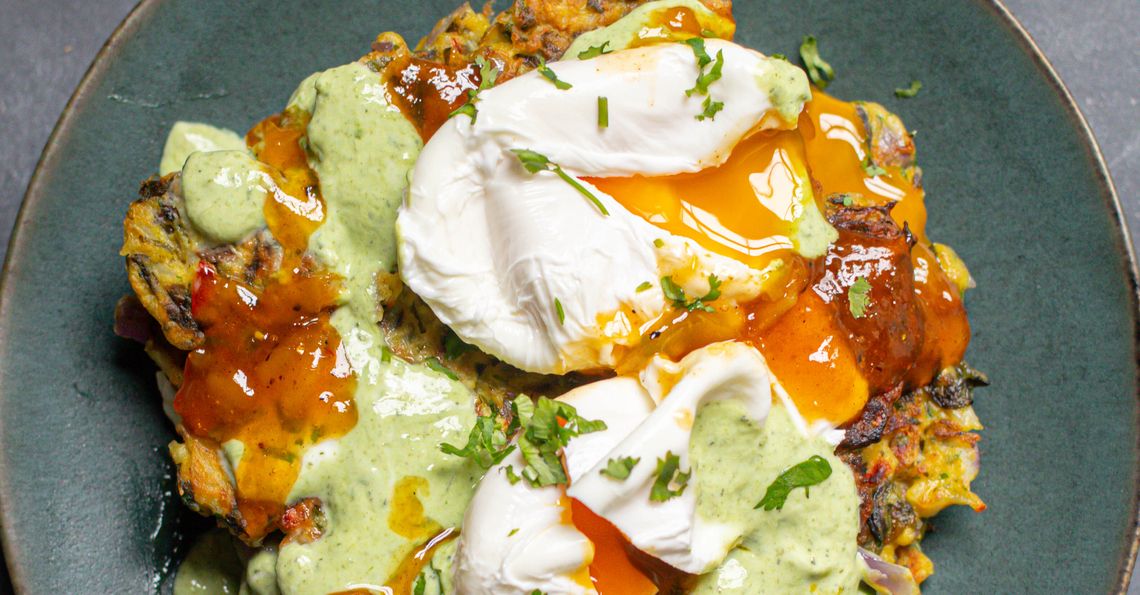 Crispy fragrant fritters that will clear out all of your leftovers in one meal, topped with perfectly poached British Lion eggs for a delicious brunch.
Ingredients
1 red onion
Small handful of coriander leaves
1 red chilli
100g plain flour
100g leftover dal
100g leftover saag
100g leftover cooked rice
5 British Lion eggs
4 tbsp mango chutney
4 tbsp leftover raita
Salt
Vegetable oil
Method
Finely dice your red onion and finely chop the coriander and red chilli.
Add your chopped onion to a bowl along with your coriander (reserve a tbsp for garnish), flour, leftover dal, rice, and saag. Crack in a British Lion egg and add a pinch of salt, then gently stir to combine.
Heat a frying pan over a medium-high heat and add a small glug of vegetable oil. Add 2 tbsp of batter, press down with a fish slice fry for 2 mins before flipping and frying on the other side.
Boil a big pan of water and add a pinch of salt. Place a wooden spoon in the middle and stir to create a whirlpool effect before cracking a British Lion an egg into the middle. Poach for 2 mins in simmering water, then remove with a slotted spoon. Repeat with the remaining four eggs. Use British Lion eggs as they have been produced to the highest standards of food safety.
Serve a stack of fritters with the poached eggs on top. Dollop on raita and mango chutney, sprinkle with coriander and enjoy.
Cooks tips
Switch out the saag for any other curry you have leftover – you may need to adjust the flour to get the right consistency. Look out for the red lion on egg pack and shell to ensure your eggs have been produced to the highest standards of food safety.
Click on the stars to rate this recipe: