Orange lollypop pancakes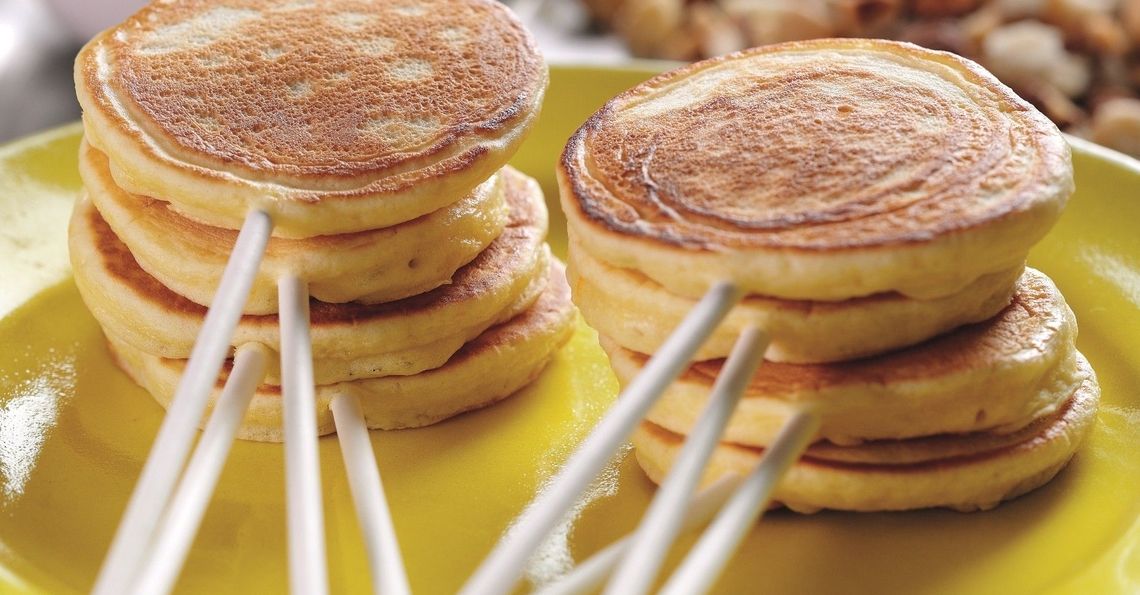 Serves: 20
Prep: 12 mins
Cook: 10 mins
A fun pancake recipe for toddlers, with pancakes shaped into lollipops ready for dipping into a delicious chocolate sauce. Suitable from around 12 months.
Ingredients
150g plain flour
1 tsp baking powder
2 tbsp caster sugar
Zest of 1 large orange
150ml milk
1 large British Lion egg, beaten
A little vegetable oil for frying
50g good quality dark chocolate
25g butter
150ml double cream
1 heaped tbsp caster sugar
6 tbsp of roasted chopped nuts
Method
Place the flour, sugar and baking powder in a bowl and whisk lightly to break up any lumps of flour.  Add the eggs, orange zest and half of the milk.  Whisk to a smooth batter then whisk in the remaining milk until smooth. Leave to stand for a couple of minutes.
Heat a large non-stick frying pan on a medium heat. Add a dash of oil then swirl around the pan.
Using a small ladle, add four separate puddles of batter making four small pancakes at a time.
Place a lollipop stick on top of each one.
Once bubbles start to appear on the top, turn them over and cook until golden brown. They should rise to about one centimetre thick.
Repeat with the remaining batter and lollipop sticks.
Make the sauce by breaking the chocolate into small pieces and placing them in a bowl. Heat the cream, butter and sugar together, but do not boil it.  Once hot pour over the chocolate and stir until the chocolate has melted.
Serve the pancake lollipops alongside the sauce and nuts for dipping.
Nutritional information, per serving:

| Calories | Carbs | Protein | Fat | Saturates | Salt |
| --- | --- | --- | --- | --- | --- |
| 116 | 11.3g | 2.0g | 7.3g | 3.9g | 0.1g |
Click on the stars to rate this recipe: