Pancakes with fruit and yoghurt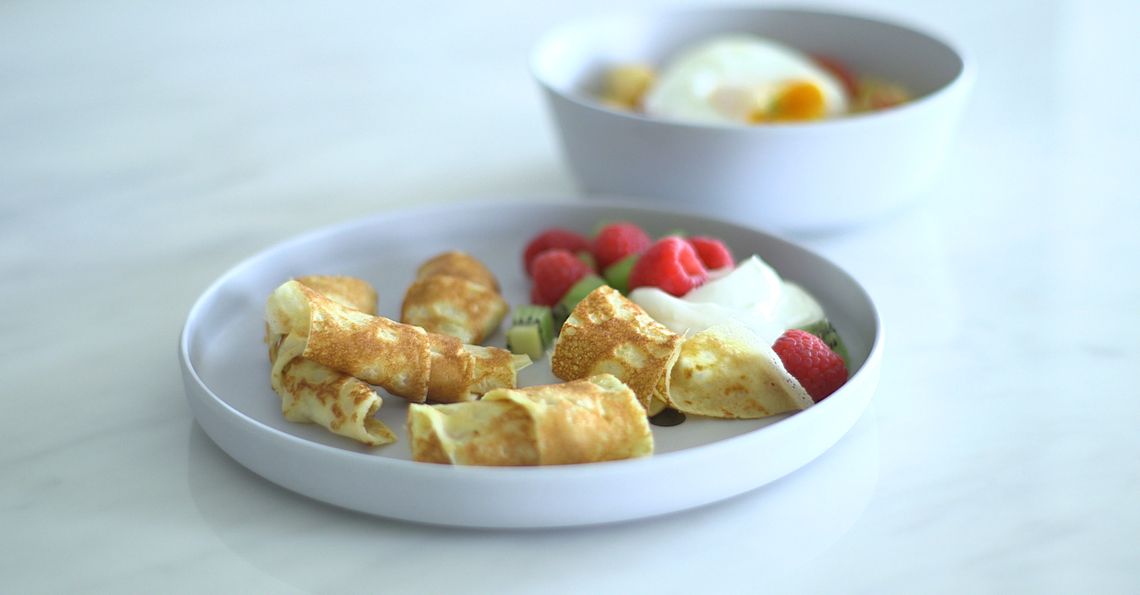 Prep: 4 mins
Cook: 8 mins
Baby's first pancakes are great finger food - and nutritious too, with high quality protein and important vitamins and minerals from the egg. Serve with some fruit to add vitamin C and yoghurt for calcium. Suitable from six months.
Ingredients
50g plain flour, sifted
1 British Lion egg
100ml full fat milk mixed with 40ml water
A small knob of unsalted butter, melted
Oil for frying
A few raspberries, chopped kiwi and full fat Greek yoghurt
Method
Sieve the flour into a large bowl, holding the sieve high so you making sure you get lots of air into the flour. Make a well in the middle of the flour and break the egg into it. Start whisking the egg taking in a little more flour every time you go round the bowl and slowly incorporate all the flour.
Gradually add the milk and water mix, whisking as you go. The mixture might look lumpy to start but they will eventually disappear.
Once you have added all the liquid, take a spatula and run round the edge of the bowl to ensure all the flour is added. Give the mixture another whisk and it should have the consistency of thin cream. Just before you start making the pancakes add the melted butter.
Put a few drops of oil to the pan. Wait for the pan to become hot on a high heat.
Pour a ladle full of the batter into the pan. Pick up the pan and tilt it to spread out the batter. Return to the heat. The first side will be cooked in about 1-2 minutes.
Test to see if the first side is cooked: lift the pan off the heat and shake it. When the pancake comes away from the pan, it's time to toss or flip with a spatula. Cook the other side. Both sides of the pancake should be golden with brown speckles. Remove the pancake from the pan. Repeat with the oil to lubricate the pan and use the remaining batter.
Serve rolled into strips with fruit and yogurt.
Click on the stars to rate this recipe: