Poached egg on buttered spinach muffin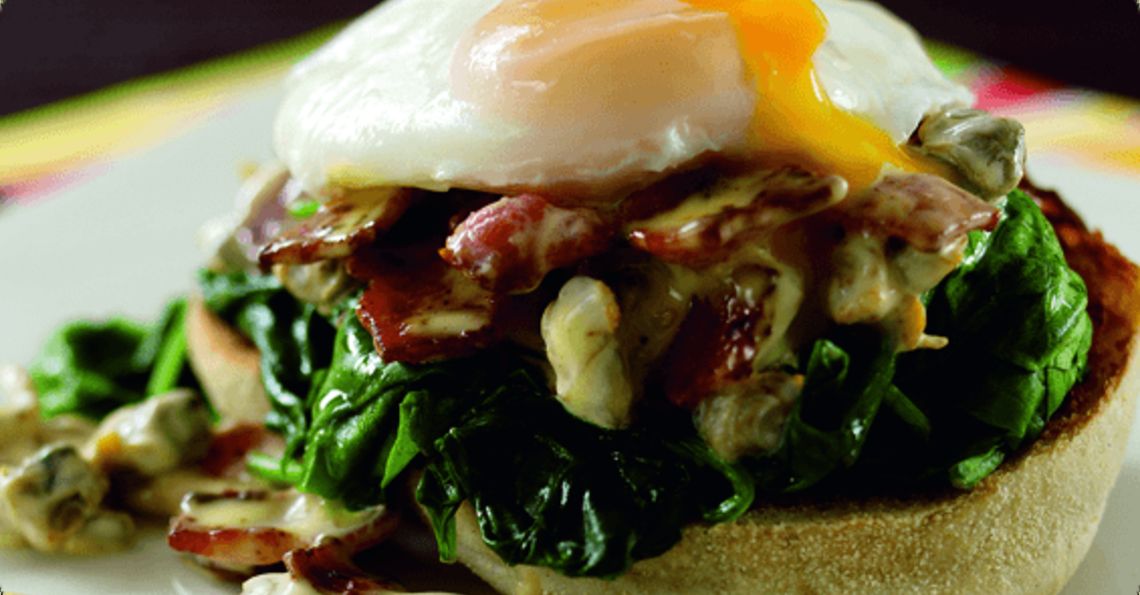 Serves: 2
Prep: 10 mins
Cook: 5 mins
Try this sensational poached egg recipe that comes with a whole bunch of extras - enjoy the cool, creamy taste of butter together with the soft tender spinach leaves and sizzling bacon on a delicious muffin. Absolutely delicious and ready in minutes.
Ingredients
For the Hollandaise sauce:
100g/4oz unsalted butter
2 large British Lion egg yolks
15ml/1 tbsp warm water
a squeeze of lemon juice
salt and freshly ground black pepper
To finish:
4 large British Lion eggs
a dash of white wine vinegar
150g/5oz smoked streaky bacon
100g/4oz cockles, drained if in brine
100g/4oz fresh spinach leaves
15g/1/2oz unsalted butter
2 English muffins, toasted
Method
First make the hollandaise: melt the butter in a small pan, leave it to cool slightly, then skim off the clarified butter discarding the buttermilk. Place the egg yolk in a medium bowl, placed over a pan of hot water. Whisk the egg yolk and water together with an electric whisk until creamy, remove from the heat, then gradually whisk in the clear butter until the sauce has thickened. Stir in the lemon juice and season to taste. Keep warm.
Heat a frying pan, add the bacon and sauté until golden. Discard the excess fat, then stir in the cockles. Keep warm.
Melt the butter in another pan, add the spinach leaves, cover and cook for 1-2mins for until the leaves have wilted. Season.
Fill a frying pan with water and bring to the boil. Reduce the heat to a gentle simmer, gently crack in the two eggs and poach for 3mins according to your taste. Remove from the heat.
Place the toasted muffins on two warm plates, top with the spinach. Stir 3 tbsp of the hollandaise sauce into the cockle mix and spoon on top of the spinach.
Finally top each with a poached egg. Spoon the hollandaise sauce around the muffins and serve.
Click on the stars to rate this recipe: