Poached eggs with oak smoked ham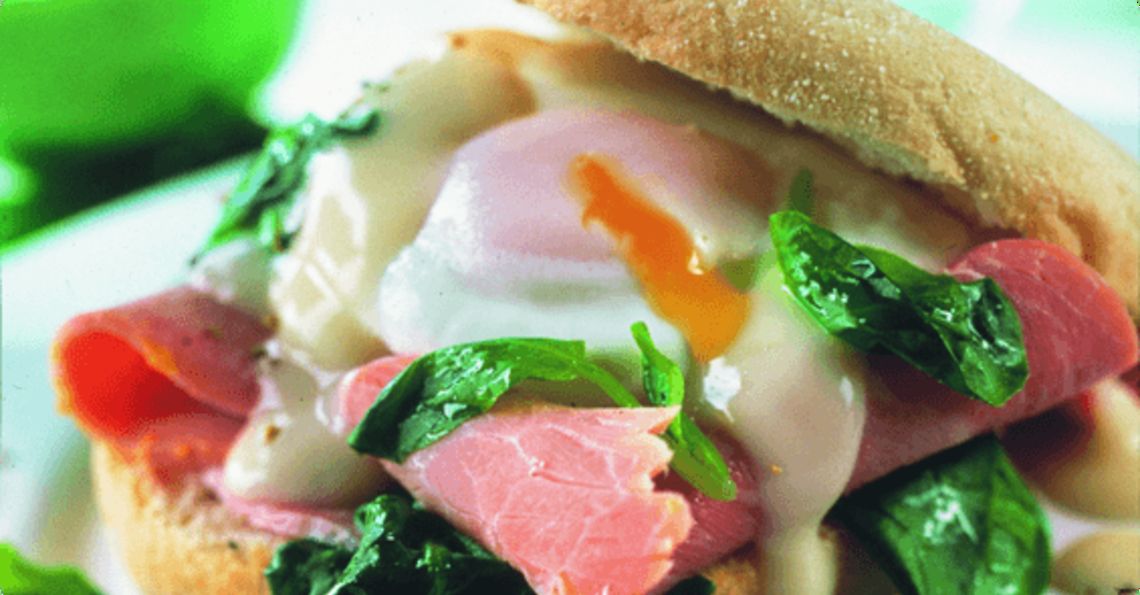 Serves: 2
Prep: 15 mins
Cook: 15 mins
A tasty treat for the whole family or to spoil yourself after a hard day, whip up this poached egg delight, complete with the succulent taste and texture of tangy smoked ham and a dash of black pepper - all on a creamy, buttered  muffin.
Ingredients
1 tbsp vinegar
2 large British Lion eggs
1 tsp butter
50g/2oz young spinach leaves, rinsed
2 English muffins, warmed and split in half
100g/4oz sliced smoked ham
freshly ground black pepper
For the sauce:
3 tbsp white wine or tarragon vinegar
3 tsp butter
2 tsp plain flour
1 beaten British Lion egg
100ml/3 fl oz semi-skimmed milk
Method
Fill a small non-stick frying pan with 2cm/3/4" cold water and bring to a gentle simmer over a low heat. Add the vinegar then gently break in the eggs. Cook for 2 minutes then remove from the heat and leave the eggs in the hot water for a further 5 minutes until just firm.
Meanwhile, make the sauce. Simmer the vinegar in a saucepan until reduced by half. Beat the egg and milk together. Add two teaspoons of the butter to the pan and remove from the heat. When melted, stir in the flour.
Gradually add the egg and milk mixture to the pan and whisking constantly with a balloon whisk, return to the heat and cook for 2-3 minutes until smooth and creamy. Stir in the remaining teaspoon of butter. Place the spinach leaves in a saucepan and cover. Cook over a low heat for 1-2 minutes, shaking the pan occasionally until the leaves are wilted.
Arrange the muffins on two plates and top with the ham and spinach. Drain the poached eggs with a slotted spoon and place on top of the ham. Spoon the 'hollandaise' over, sprinkle with black pepper and serve.
Click on the stars to rate this recipe: