Pork and apple in the hole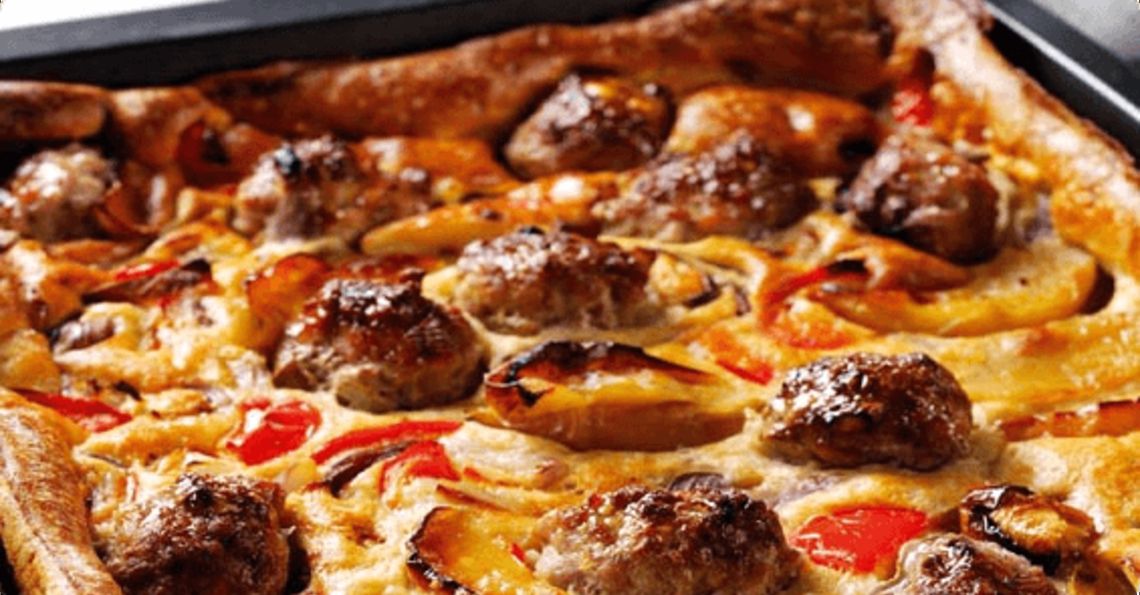 Serves: 12
Prep: 10 mins
Cook: 40 mins
Try this tempting alternative to traditional Toad in the Hole. The recipe serves 12 so is suitable for entertaining.
Ingredients
350g plain flour
pinch of salt
6 medium British Lion eggs
600ml milk
700g lean pork mince
2 tsp dried mixed herbs
1 clove garlic, crushed
4 tbsp vegetable oil
2 red onions, sliced
2 red peppers, deseeded and sliced
1 apple, cored and sliced
Method
Preheat the oven to 220C, 450F, Gas Mark 7.  Place a large roasting tin in the oven to warm.  Make the batter: place the flour, salt, eggs and milk in a blender and blend until smooth and lump free.  Set aside.
Mix the pork, herbs and garlic together then roll into tomato size balls.  Remove the tin from the oven, pour in the oil, add the pork balls, onions, peppers and apple slices.  Toss together and roast for 10 minutes.
Remove the tin from the oven, shake well then pour the hot batter over the pork and vegetables.  Return to the oven and bake for 30-35 minutes or until the batter is golden and risen.  Serve hot with the vegetables.
Click on the stars to rate this recipe: