Prosciutto pesto eggs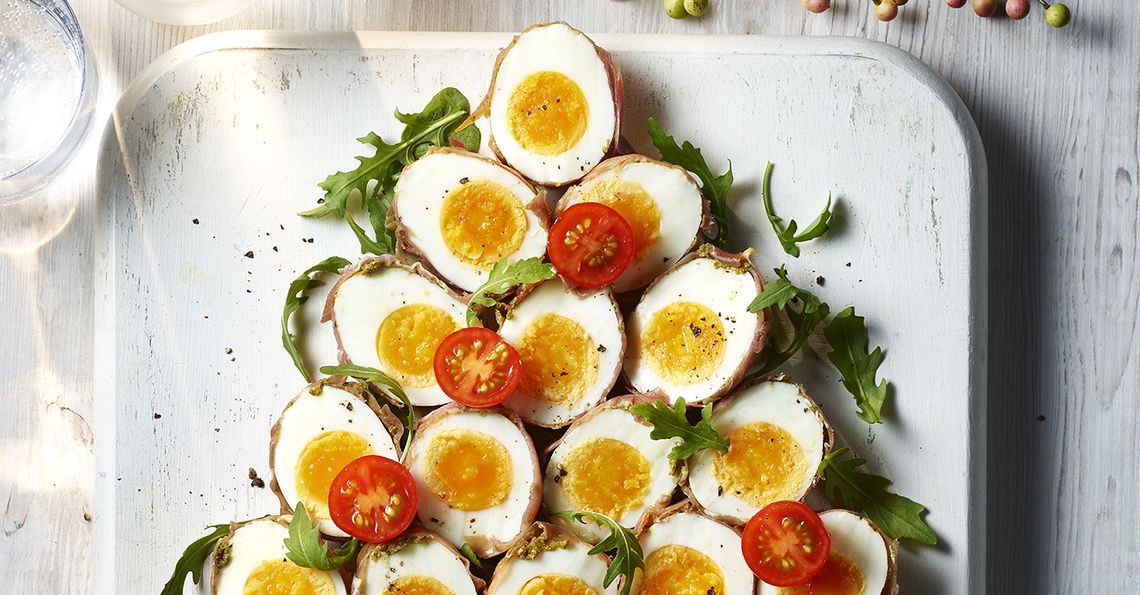 Serves: 12
Prep: 5 mins
Cook: 5 mins
This recipe combines the rich flavours of prosciutto or serrano ham with the vibrant, herby zest of green pesto, creating a dish that is as visually appealing as it is delicious.
Ingredients
14 medium British Lion eggs
4 tbsp green pesto sauce
2 (9 slice) packs prosciutto or serrano ham
Salt and ground black pepper
Rocket leaves and cherry tomatoes to serve
Method
Place the eggs in a large pan and cover with cold water. Bring to the boil, then simmer uncovered for 5 minutes - the water needs to be bubbling.
Drain the eggs, and run them under cold water, tapping the shells as they cool. Once cold enough to handle, peel and discard the shells. Leave the eggs to cool in the water.
Drain well and dry on kitchen paper. Place half the pesto on a plate. Cut each slice of ham in half lengthways.
Roll an egg in the pesto, then wrap it in the ham, it should 'stick' to the pesto. Repeat with all the eggs, pesto and ham. Arrange the rocket leaves on a large board or platter in a rough Christmas tree shape.
Use a sharp knife to neatly cut the eggs in half. Now arrange them in a Christmas tree shape starting with a row of 7 eggs at the bottom, and 1 as the top of the tree. Finish with salt and pepper, a few halves of cherry tomatoes and more rocket if liked.
Click on the stars to rate this recipe: