Quick pesto and egg pasta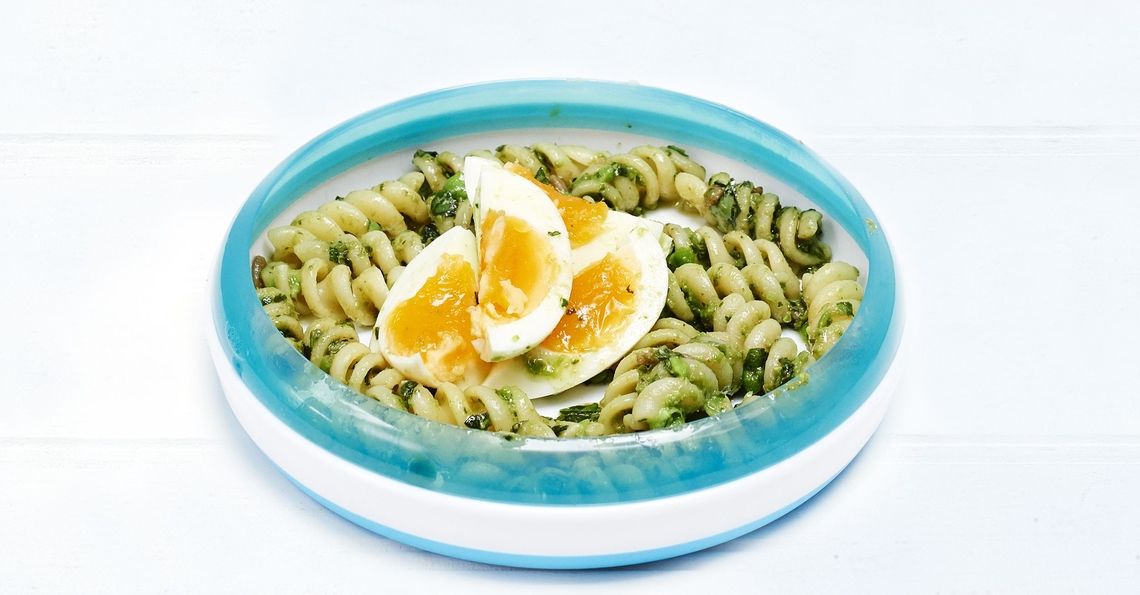 Serves: 1
Prep: 10 mins
Cook: 10 mins
A tasty pasta meal for toddlers. The eggs provide natural high quality protein, vitamins and minerals and there's added fibre. The pesto pasta provides extra nutrients, including carbohydrate, but also introduces your little one to some interesting new flavours. Suitable from around 12 months.
Ingredients
1 British Lion egg
Handful basil leaves
25g peas (defrosted from frozen or fresh)
1 garlic clove, chopped
50g sunflower seeds
50g grated parmesan
50ml light olive oil
Squeeze of lemon juice
50g fusilli pasta
Method
Transfer the pesto ingredients to a blender and blitz until smooth. Transfer to a bowl and stir 3 tbsp water (or more to loosen further) and season with a squeeze of a lemon, salt and pepper to taste if you like. Set aside.
Bring a pan of water to the boil, and lower in the egg. Boil for 8 minutes (or 6 to soft boil) then drain and run under cold water.
Meanwhile, boil the pasta according to pack instructions and drain. Stir through half the pesto and spoon into a bowl.
Remove the shell from the egg and slice into quarters. Serve with the pasta.
Click on the stars to rate this recipe: