Roasted roots and cheddar pancakes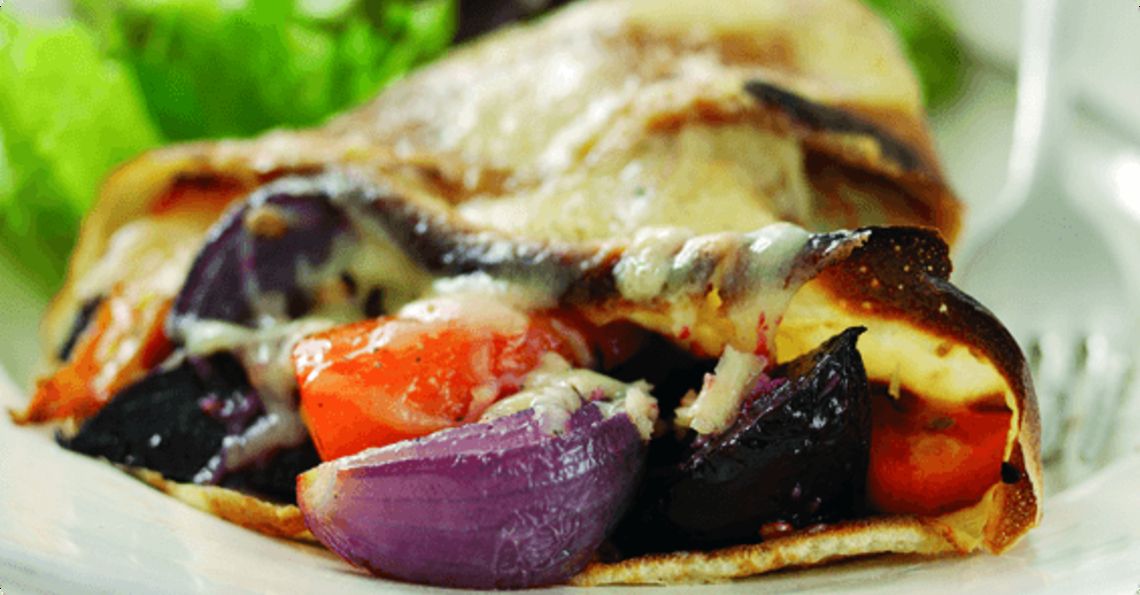 Serves: 4
Prep: 20 mins
Cook: 20 mins
Roasted roots and cheddar pancakes
Ingredients
75g/3oz plain flour
pinch of salt
2 large British Lion eggs
150ml/1/4pt milk
a little oil for frying
For the filling:
4 small beetroot (about 225g/8oz in weight)
225g/8oz Chantenay carrots, trimmed
2 small red onions, peeled
30ml/2tbsp olive oil
5ml/1tsp coriander seeds, lightly crushed
175g/6oz mature Cheddar cheese
salt and freshly ground black pepper
Method
First make the filling: preheat the oven to 200°C/Fan 180°C/400°F/ Gas Mark 6. Trim the beetroot, but don't peel. Scrub the beetroot and carrots clean and pat dry. Cut each beetroot and onion into 6-8 wedges and place in a roasting tin. Add the onions, oil, coriander, plenty of seasoning and 30ml/2tbsp of water and toss well. Roast for 20-25 mins, stirring half-way through, until the vegetables are tender.
Meanwhile, make the pancakes: place the flour, salt and eggs in a large bowl with half the milk. Whisk until the mixture is lump free. Add the remaining milk and whisk again until smooth. If you prefer, place all the ingredients together in a food processor and blend until smooth. Pour the batter into a jug. It should be the consistency of single cream, add a little water if it seems too thick. The batter can be made in advance and chilled for up to 8 hours before use.
Heat a 20cm/8in diameter non-stick frying pan until hot, drizzle a little oil over the centre and wipe it around with a piece of kitchen paper. Pour a little of the batter into the pan and immediately tilt the pan to spread the batter thinly and evenly over the base. Cook for 2 mins or until the top is set and the base golden. Turn the pancake over with a spatula, or if you are feeling brave, flip the pancake!
Cook for a further 1-2 mins or until the other side is golden. Transfer to a plate and interleave with greaseproof paper, and keep warm in the oven. Use the batter and a little more oil to make a further 7-8 pancakes in the same way (depending upon thickness).
Remove the vegetables from the oven. Divide them between four of the warm pancakes, scatter half the cheese over the vegetables. Fold each pancake into quarters and place on a non-stick baking sheet. Sprinkle over the remaining cheese and place under a hot grill for 1-2 mins until the cheese is golden and melted. Serve hot with a leafy salad.
Interleave the remaining pancakes with non-stick paper and once cold, store in the fridge. They can then be reheated in the microwave on High for 1½ -2 mins depending on the wattage of your microwave.
Click on the stars to rate this recipe: