Rosti nests with smoked salmon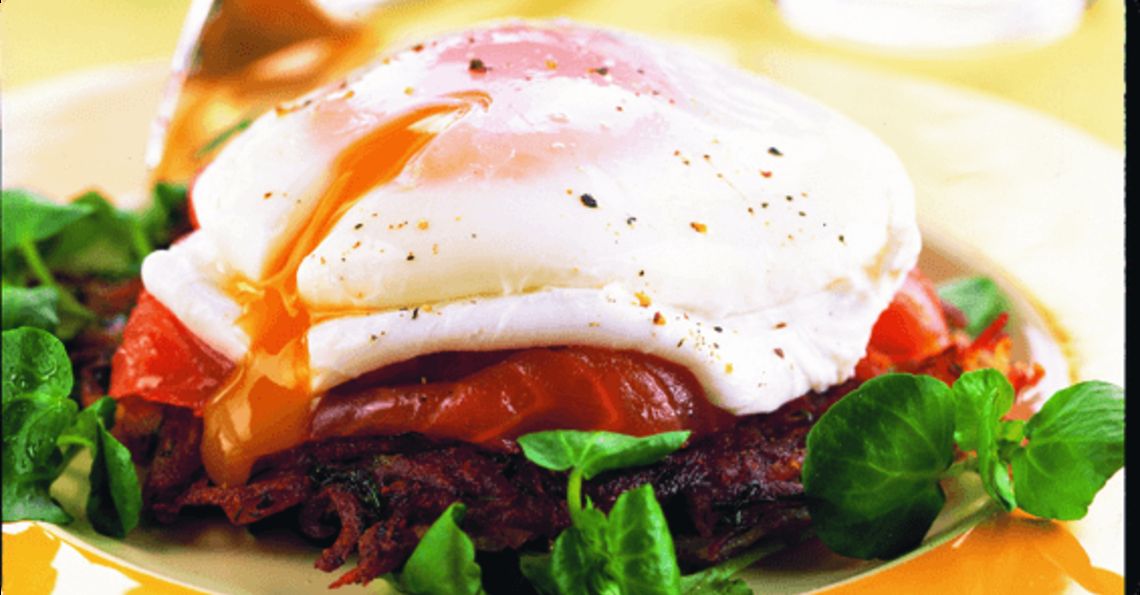 Serves: 4
Prep: 5 mins
Cook: 30 mins
Impress family and friends with this tasty meal. Delicious.
Ingredients
450g (1lb) old potatoes, peeled
3 tablespoons freshly snipped chives
175g (6oz) smoked salmon
2 tablespoons vegetable oil
50g (2oz) butter
a dash of vinegar
4 large British Lion eggs
salt and freshly ground black pepper
small bunch of watercress, to serve
Method
Place the whole peeled potatoes in a large pan, cover with water and bring to the boil. Cover and simmer for 5 minutes or until a little tender. Drain and rinse in cold water. When the potatoes are cool enough to handle, drain again and then coarsely grate them into a large bowl. Add the chives and plenty of salt and pepper. Chop half the salmon and stir into the potatoes.
Heat half the oil and butter in a large non-stick frying pan. Divide the grated potato into four and add to the pan, two portions at a time. Shape the portions into rounds and cook for 6-8 minutes, turning once, until golden brown on both sides.
Fill a large frying pan with salted water, add the vinegar and bring to the boil. Poach the eggs in the simmering water for 3-5 minutes depending how you like your eggs cooked.
To serve, divide the watercress between four serving plates, top with the rosti cakes, the remaining salmon and finally the poached egg. Serve immediately.
Click on the stars to rate this recipe: