Salad with poached eggs & chorizo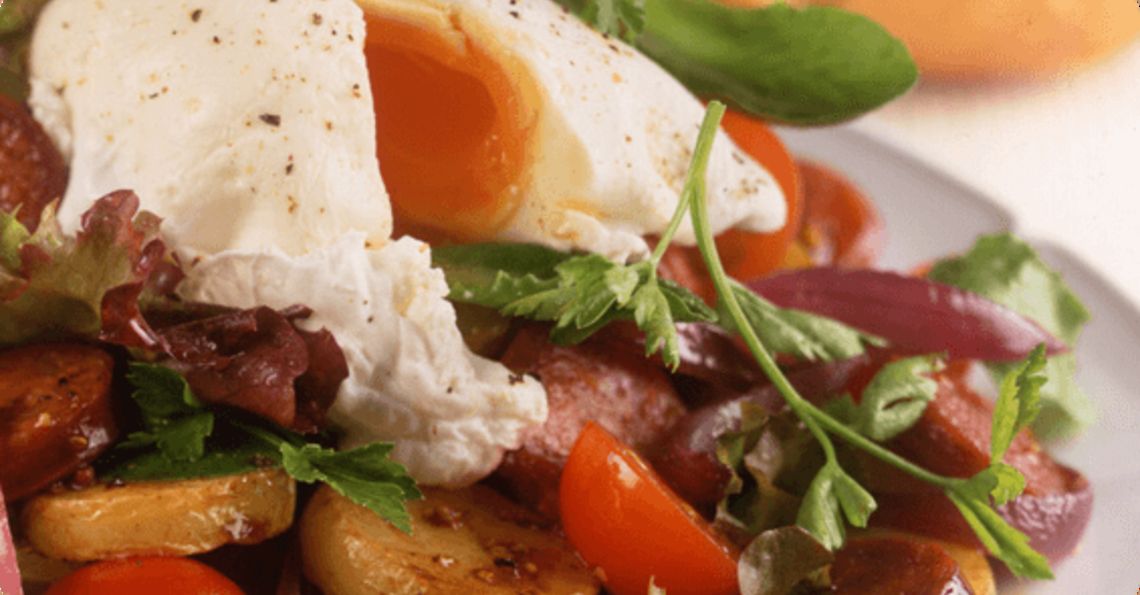 Serves: 4
Prep: 5 mins
Cook: 20 mins
The family will love this tasty salad with an oozing poached egg on top.
Ingredients
4 large British Lion eggs
dash of vinegar
salt and freshly ground black pepper
60ml/4tbsp olive oil
450g/1lb cooked new potatoes, sliced
2 small red onions, sliced
225g/8oz chorizo sausages
225g/8oz cherry tomatoes
2 tablespoons balsamic vinegar
10ml/2tsp wholegrain mustard
1 x 120g bag prepared salad leaves
Method
Bring a large pan of water to the boil, add the vinegar and a good pinch of salt then reduce to a simmer. Carefully crack each of the eggs onto a saucer and tip gently into the simmering water. Cook for 3-4 minutes or until set. Use a slotted spoon to transfer the eggs to a bowl of cold water and set aside.
Heat half the oil in a large frying pan, add the potatoes and cook for 10 minutes, stirring until golden. Transfer to a salad bowl.
Heat the remaining oil and add the onion, cook for 3 minutes, then add the chorizo and cook for a further 3 minutes or until crisp. Stir in the tomatoes, balsamic vinegar and mustard and stir well. Transfer to the salad bowl, add the leaves and toss well.
Divide the salad between four plates. Use a slotted spoon to remove the eggs from the water, drain on kitchen paper then place an egg on top of each salad. Serve immediately with warm bread.
Click on the stars to rate this recipe: