Salad with tuna, pesto and rocket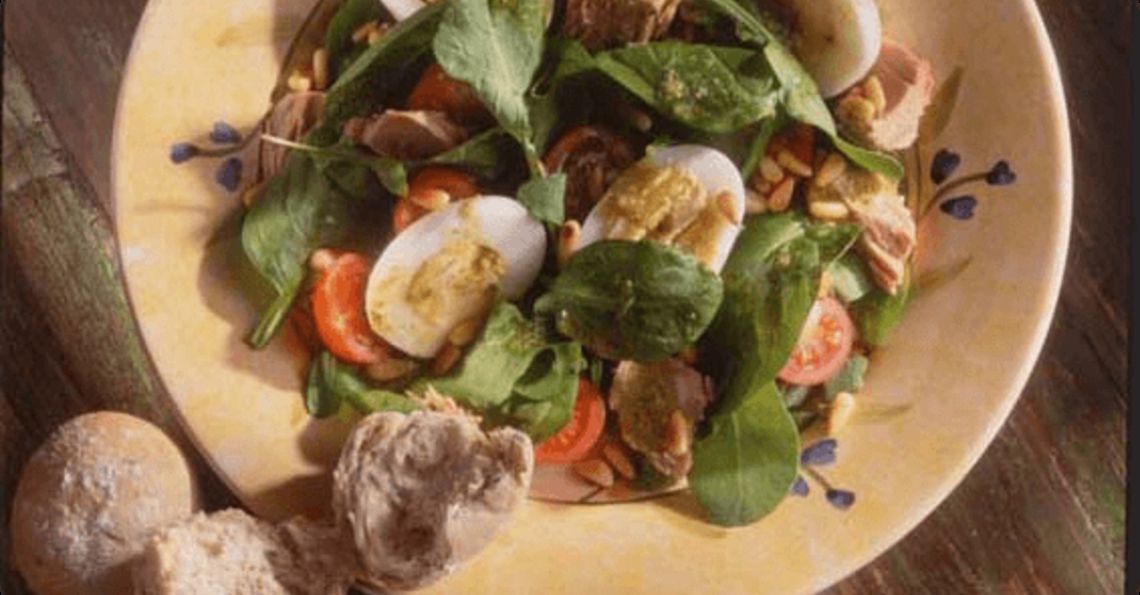 Serves: 4
Prep: 30 mins
Cook: 0 mins
Salad with tuna, pesto and rocket recipe
Ingredients
280g packet white pizza dough mix flour, for dusting
6 large British Lion eggs
225g packet baby spinach
30g packet rocket
200g can tuna steak in brine, drained
100g (3 1/2oz) cherry tomatoes, halved
50g (1 3/4oz) pine nuts, toasted
For the dressing:
1 garlic clove, halved
4 tablespoons extra virgin olive oil
2 tablespoons white wine vinegar
1 tablespoon pesto sauce
1/2 teaspoon caster sugar
salt and freshly ground black pepper
Method
Preheat the oven to Gas Mark
Make up the pizza mix according to the instructions. Roll the dough into 12 walnut-sized balls. Cover and leave to rise for 10 minutes.
Dust with flour and bake in the oven for 7-8 minutes until pale golden and risen.
Place eggs in a medium pan and cover with cold water. Bring to the boil and simmer for 7 minutes. Drain, and rinse in cold water, tapping shells all over. Shell and halve the eggs.
Place the spinach and rocket leaves in a large salad bowl. Break the tuna into large chunks and add to the salad bowl with the eggs, tomatoes and pinenuts.
Put the dressing ingredients in a screwtop jar and shake well. When ready to serve, remove the garlic with a fork and discard. Pour the dressing over the salad and toss to mix. Serve with the dough balls.
Click on the stars to rate this recipe: