Salmon and egg kedgeree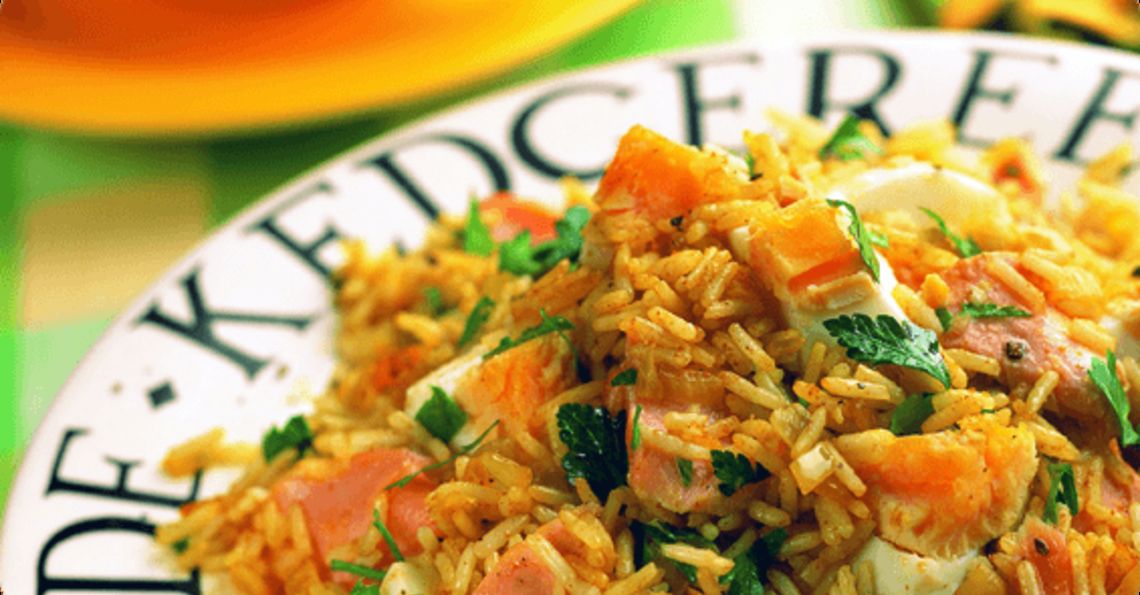 Serves: 4
Prep: 10 mins
Cook: 25 mins
This fish-based recipe makes a really tasty meal.
Ingredients
50g/2oz butter
1 medium onion, chopped
10ml/2tsp mild curry powder
6 cardamom pods, crushed
225g/8oz basmati rice
6 large British Lion eggs
350g/12oz salmon fillet, skinned
150ml/1/4pt double cream
rind and juice 1 lemon
60ml/4 tbsp chopped fresh parsley
salt and freshly ground black pepper
wedges of lemon and parsley to serve
Method
Melt the butter in a large pan, add the onion and sauté for 4 minutes or until soft. Add the curry powder, cardamom and rice and stir well until coated in butter. Add 600ml/ 1pt water and a pinch of salt. Cover the pan and simmer for 15 minutes or until the water has evaporated and rice is tender.
Meanwhile, place the eggs in a large pan, cover with cold water and bring to the boil. Cook for 8 minutes, then drain, rinse in cold water, shell. Roughly chop and set aside.
Place the salmon in a frying pan, add the cream and lemon juice, and bring to the boil. Cover and gently simmer for 5-6 minutes or until the fish flakes easily. Transfer to a plate and flake with a fork. Simmer the cream for 3 minutes or until slightly reduced.
Fluff up the rice with a fork, stir in the cream and parsley and season well with pepper. Lightly fold the eggs and salmon through. Serve warm with wedges of lemon and parsley.
Click on the stars to rate this recipe: