Salmon fishcakes with lemon sauce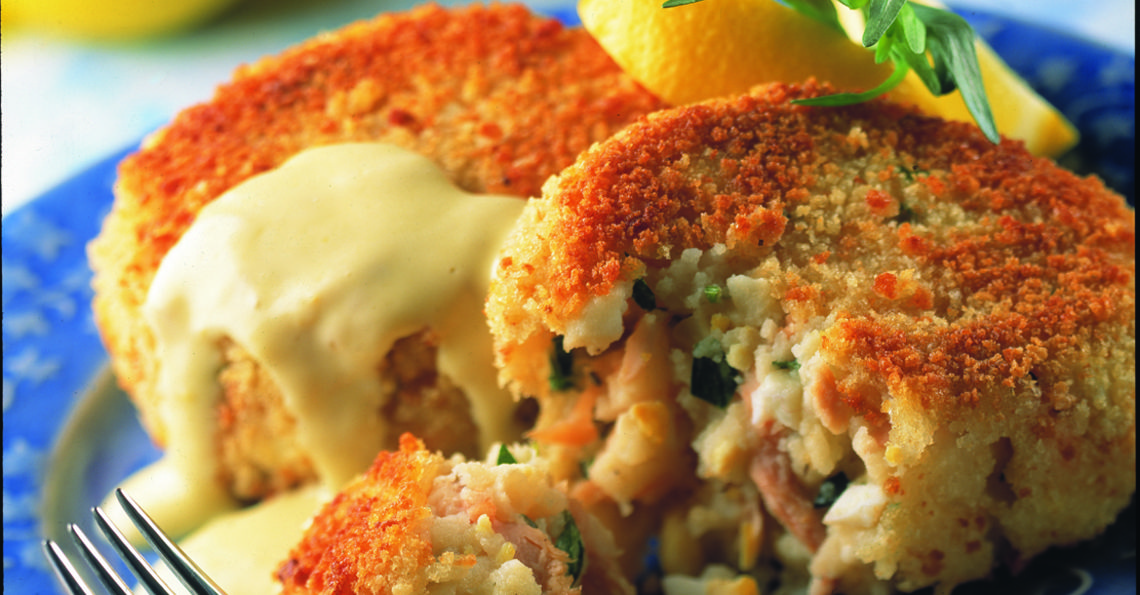 Serves: 4
Prep: 30 mins
Cook: 30 mins
This recipe for fishcakes will ensure a great reaction. The lemon sauce is the perfect finishing touch.
Ingredients
350g (12oz) salmon fillet, skinned
7 large British Lion eggs
675g (1 1/2lb) mashed potato
2 tablespoons freshly chopped tarragon
4 tablespoons plain flour
100g (3 1/2oz) natural dried breadcrumbs
4 tablespoons vegetables oil
50g (1 3/4oz) butter, melted
grated zest and juice of 1 small lemon
salt and freshly ground black pepper
Method
Place the salmon in a frying pan, add water to just cover and bring to the boil. Cover and simmer for 5-6 minutes or until the fish fakes easily. Transfer to a plate and flake the flesh with a fork.
Place 4 eggs in a pan, cover with cold water and bring to the boil. Simmer for 7 minutes. Drain, rinse in cold water, tapping the shells. Peel and chop roughly.
Mix together the mashed potato, tarragon, salmon and boiled eggs with some seasoning and a beaten egg. Divide the mixture into eight and shape into round patties.
Beat another egg in a shallow dish. Coat the cakes first in the flour, then the egg and then breadcrumbs, turning them until well coated. Chill until required.
Heat the oil in a large frying pan, add the fish cakes and cook over a medium heat for 8-10 minutes turning once until golden on all sides. Keep warm.
To make the sauce, place the remaining egg, the butter, lemon zest and juice and some seasoning in a heatproof bowl. Place the bowl over a pan of simmering water. Use an electric whisk to whisk for 2-3 minutes or until thick. Serve the fishcakes hot with sauce.
Click on the stars to rate this recipe: