Sweet potato rosti with salmon and eggs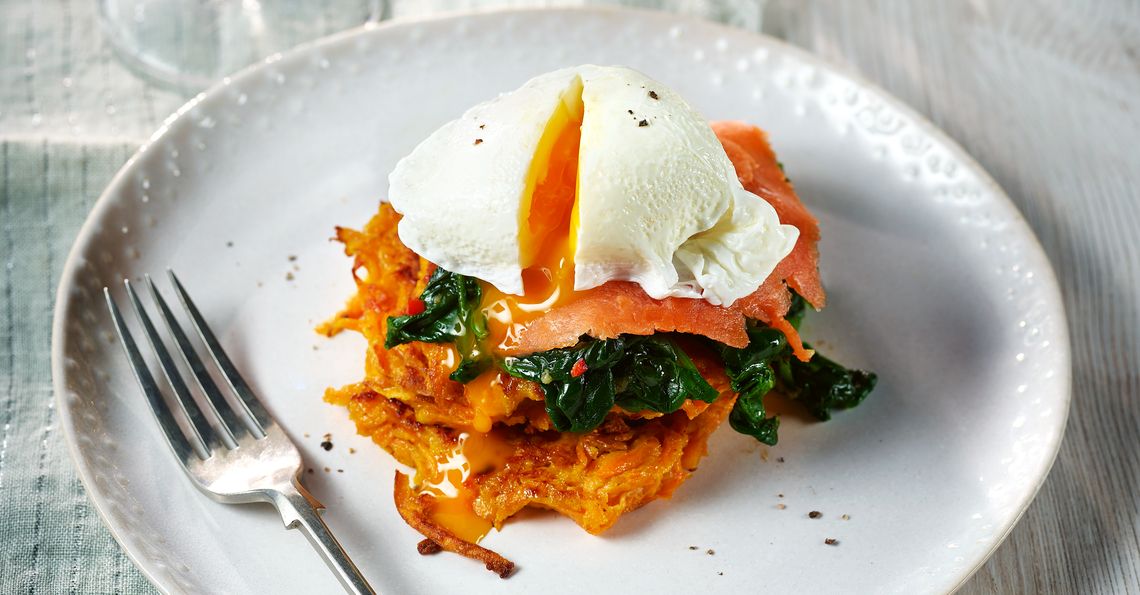 Serves: 4
Prep: 15 mins
Cook: 15 mins
Ingredients
1 large sweet potato (about 400g)
1 tsp salt
5 tbsp plain flour, sifted
5 large British Lion eggs
3 tsp vegetable oil
2.5cm fresh root ginger, grated
2 cloves garlic
1/2 red chilli, deseeded and chopped
200g spinach
100g smoked salmon slices
Method
1. Peel and coarsely grate the sweet potatoes, tip into a few sheets of kitchen paper and squeeze out any excess moisture. Tip into a bowl, add the flour, salt, plenty of ground black pepper and one of the eggs. Mix well
2. Heat 1 tsp of oil in a frying pan, when hot add heaped dessert spoonfuls of the potato mixture into the pan. Spread each until it is about 1cm thick and 9cm across. Cook over a medium heat for 3 minutes on each side or until golden and crisp. Transfer to a plate and keep warm. Repeat to make 12 rosti in total.
3. Add another teaspoon of oil to the pan, add the ginger, garlic and chill and stir for 10 seconds before adding the spinach leaves. Stir until the leaves have wilted. Remove from the heat and season to taste and keep warm.
4. Fill a large deep pan with water and a splash of vinegar and bring to a rapid boil. When the water boils, crack one egg at a time onto a saucer then, tip into the water so that it sinks to the base of the pan forming a teardrop shape. Repeat with the other eggs.
5. Reduce the heat to a simmer and cook the eggs for 3- 5 mins, depending how you like your eggs.
6. Divide the rosti between warm plates, top with the spinach, folds of salmon and finally a poached egg on each.
Click on the stars to rate this recipe: